Clever Clear is a handy lens cleaner that cleans glasses using a statically charged pad. Does it really work? Here is my Clever Clear review.
Sponsored Links
About Clever Clear
Clever Clear is an eyeglass cleaning system that consists of an electrostatic charging station, retractable brush, and microfiber pad. The official product website is cleverclearoffer.com, which was registered in June 2017. The screenshot below shows how the product website looked in December 2017.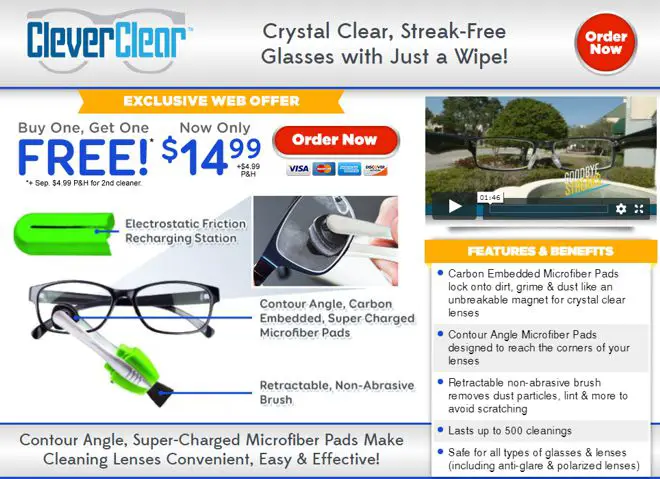 Claims & Features
Electrostatically charged microfiber pads wipe away grime
Contoured angle allows cleaning of lens edges
Retractable brush clears away dust and lint to prevent scratching
Provides up to 500 cleanings
Compatible with all types of glasses and lenses (even polarized and anti-glare)
Cost
When ordering Clever Clear, there is a mandatory double offer. The cost is $14.99 + $4.99 P&H for a total of $24.97. There are seven different color options: black, blue, purple, red, green, white, or pink. At the time of this writing, Clever Clear is not available in stores.
Clever Clear Review
If you are constantly dealing with dirty or smudged glasses, the makers of Clever Clear may have just the item for you. This two-sided pad is designed to easily and effectively clean your eyeglasses. But does it work?
Sponsored Links
Clever Clear is almost like a double-sided mini windshield wiper for your glasses. It operates like a pair of tweezers that you squeeze together while moving the angled pads along both sides of the lenses. When not in use, Clever Clear resides in a case that allows static electricity to charge when you pull the unit out. This charge is designed to help pick up dirt and grime more efficiently.
The website notes that Clever Clear is an alternative to microfiber cloths. We are told, "No more rubbing with microfiber cloths," but I don't think consumers really have much of a problem using microfiber cloths. Is Clever Clear a solution to a problem that doesn't exist? It wouldn't be the first As Seen on TV product to do so.
To me, the big question about Clever Clear is in its similarity to another product which is in fact seen in the Clever Clear advertisement.
Alternative: Peeps
The commercial for Clever Clear seems to "borrow" video from a similar product called Peeps. In fact, the Peeps logo is clearly seen on the Clever Clear video on its website, as you can see in the screen capture below.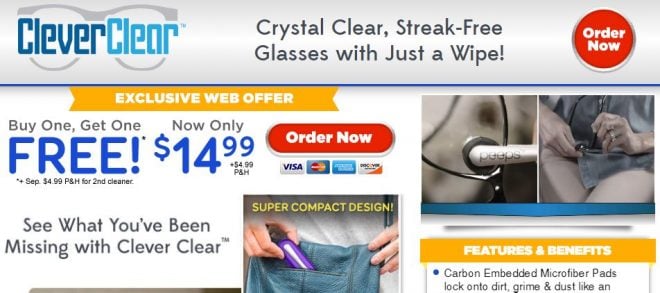 Because the Peeps logo is so prominently displayed on the Clever Clear website, I don't know if this is a licensed re-branding of Peeps, or they have simply borrowed promotional video from Peeps while they test market the item. Either way, it's clear that Clever Clear is very similar in design and function to Peeps, which is currently available for about $17 on Amazon, although its reviews are lukewarm. Its current 3.2 star rating is fueled by a hefty proportion of 1-star ratings (27% of all ratings). The majority of complaints there state that it doesn't remove smudges effectively.
The use of Peeps promotional video on the Clever Clear website could confuse consumers and certainly shows how similar these two products are. This may not bode well for Clever Clear, as Peeps barely registers a positive rating among hundreds of consumers.
I believe Clever Clear is still being test marketed, based on its use of Peeps video and its June 2017 website registration date. You may want to spend a few minutes watching my video below in which I discuss some techniques used in As Seen on TV test marketing.
Your Clever Clear Reviews
Have you used Clever Clear or something like it? Leave a comment below and a star rating above to let us know your thoughts.