Clever Cutter is a 2-in-1 knife and cutting board. Does it work as advertised? Read my Clever Cutter review and watch my full video below.
Sponsored Links
About Clever Cutter
Clever Cutter is a cutting board knife which allows foods to be cut quickly and without the mess of cutting boards. The product website is buyclevercutter.com, which was registered in July 2015.
What They Claim
2-in-1 knife cutting board
Chops in seconds
Stainless steel blade
No messy cleanup
Safety latch to keep it closed
Dishwasher safe
Clever Cutter Cost
On the official website, Clever Cutter costs $14.99 + $5.99 P&H. There is a mandatory "double offer" for another $5.99. This brings your order to $26.97 for two cutters and a bonus peeler. There's an option to upgrade to a Deluxe version which includes "German Engineered Stay Sharp Blades" and a two-year warranty. That adds $5 per cutter.
You can find Clever Cutter in stores such as Bed Bath & Beyond or on Amazon for about $10-$15.
Clever Cutter Review
Clever Cutter is one of the older As Seen on TV products still being advertised. It has been promoted occasionally for at least 10 years.
The device is said to combine a knife and cutting board into one unit, which operates more like a pair of scissors.
Sponsored Links
In general, Clever Cutter works as advertised depending on the type of food you're cutting. The device tends to handle crisp and hard foods well, but softer foods like tomatoes may present some problems. With softer foods, there may be a tendency for the blade to not complete its cut, as shown in the video below. The instructions state that it is best to add a quick "snap" to the end of your cut for the most efficient way to slice through food, which I found to be true. The one food that I didn't think worked well at all is bread, as the Clever Cutter tends to smash it down while it's being cut.
Chances are you'll find enough uses for Clever Cutter to make it a worthwhile addition to your kitchen, although I don't think it will replace old fashioned knives for every cutting job.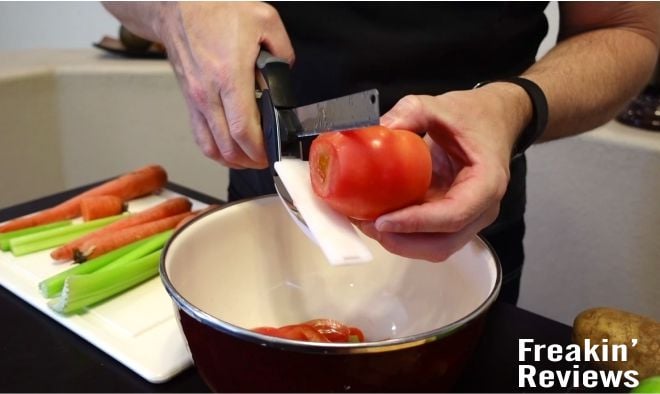 There is another issue which is probably worth mentioning. There is a safety latch which allows you to store it safely, but on a few occasions, that latch moved without my realizing it. This prevented the blade from closing completely, leading to incomplete cuts. It's not a major issue, but one to look out for.
Clever Cutter was added to Amazon in 2016. There you can find the product for about $10, along with over one thousand reader reviews.
As of this May 2019 update, it maintains a respectable 3.6-star rating there.
Video Review
Below is my full hands-on video of Clever Cutter from 2017, where you'll see tests with carrots, celery, potato, apple, tomatoes (firm and soft), cheese, bread, and chicken breast.
Television Commercial
Your Clever Cutter Reviews
Let us know what you think of Clever Cutter by leaving a comment below and a star rating above.
Updated May 2019