Clever Scope is a double-sided flexible flashlight that is advertised on television. Read our Clever Scope review here.
Sponsored Links
About Clever Scope
Clever Scope is a flexible flashlight with a built-in magnet that allows you to see in tight spaces and pick up small metallic objects.
The official product website is trycleverscope.com, which was registered in October 2015. The screenshot below was taken of the official website in May 2016.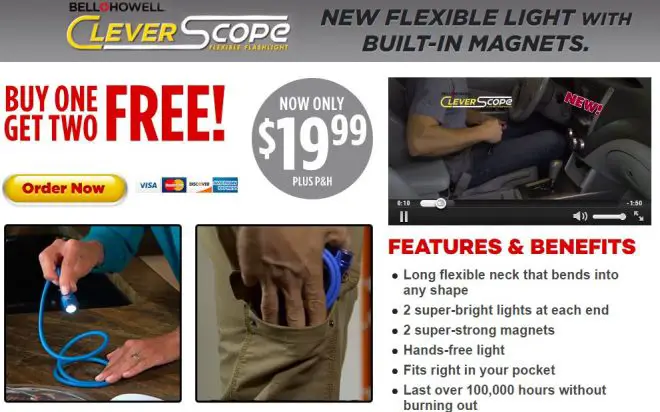 Claims and Features
Bends to any shape
Bright lights and magnets on each end
Fits in your pocket
Lasts 100,000 hours
Weighs 8 ounces
Cost
You can get one Clever Scope for $19.99 + $6.95 shipping for a total cost of $26.94. There is an option to add two more scopes free – with no additional shipping.
It seems odd that you are given a choice to add two more scopes, when no additional charges are incurred for doing this. There is a possibility that some customers may accidentally opt out of these two free scopes under the impression that additional shipping costs my occur.
We haven't seen Clever Scope in stores yet. When we do, we'll update this space. If you've seen Clever Scope in stores, drop us a comment below.
Sponsored Links
Clever Scope Review
Clever Scope is one of several Bell & Howell As Seen on TV products to hit the airwaves in recent months, such as Tac Light (review). With Clever Scope we have a long, flexible flashlight with LED lights and magnets on each end.
The product features 6 LED lights on each end, which are said to provide up to 100,000 hours of illumination. The magnets on each side allow you to retrieve metallic objects which have fallen into hard-to-reach places. Such items could be screws, keys, rings, or silverware.
Because it is flexible, you can coil Clever Scope around your wrist or into a ball to stick in a backpack or purse. It may not be something you'd keep with you at all times, but could prove quite useful when on vacation, camping, hiking, or working in the garage.
The product website shows it in black and blue, and its official Amazon page shows images of red and silver versions (although only black is listed for purchase). There does not appear to be any way to choose the color, however.
There are a number of useful applications for Clever Scope, as demonstrated in the television commercial. In addition to retrieving items, it can be used as a book light, flashlight, or bicycle light. It can be wrapped and angled in tight spaces, such as underneath a sink.
Despite its slick design, Clever Scope is not the only game in town. You may be interested in Comparing Clever Scope to a product called the HUGlight, which has a similar design, although that light includes a magnet in the center which allows it to be attached to metallic objects. That product runs about $20 and currently sports a 4.3 star rating with almost universally positive ratings.
Overall, we feel that Clever Scope is a fine product, although consumer expectations should always be realistic when purchasing As Seen on TV electronics. If and when it arrives in stores, it may be a more compelling purchase, as it will give you a chance to inspect it closer before buying, and will sidestep any shipping charges and delays. Purchasing locally also makes the return process easier, if necessary.
Television Commercial
Your Clever Scope Reviews
Have you used Clever Scope? Let us know what you think by leaving a comment below and a star rating above.