Cobra Coil is a combination of a cellphone charger and a flexible stand. Does it work as advertised? Here is our Cobra Coil review.
Sponsored Links
About Cobra Coil
Cobra Coil is a cellphone charger that is made from a durable and pliable aluminum braid that can be twisted into any shape or position. The official website is buycobracoil.com, with a registration date of February 2017. The screen capture below was taken of the product website in August 2017.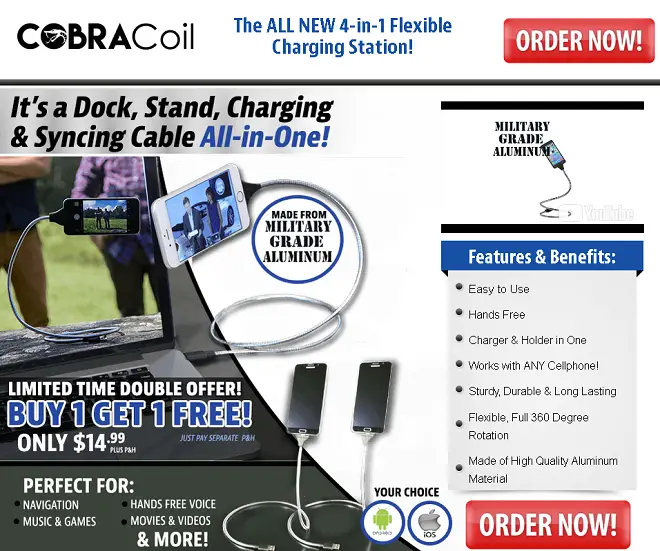 Claims & Features
Using is simple
Hand free
Combines a charger and a holder
Compatible with any cellphone
Reliable and enduring
Can rotate 360 degrees
Manufactured from high quality aluminum
Cost
Cobra Coil costs $14.99 + $7.99 P&H for a total of $22.98. There is an optional double offer for a separate fee of $7.99 which would bring the total to $30.97. It comes in two operating system variations: either Apple or Android. At the time of this writing, Cobra Coil is not available in stores.
Sponsored Links
Cobra Coil Review
Smart phone holders and chargers are favorite categories among As Seen on TV marketers, so it should come as no surprise to see a product that combines the two. Cobra Coil is a metal phone holder that also doubles as a phone charger. Available for iOS or Android, it features a USB connector on one end, and lightning connector on the other.
To use Cobra Coil, you simply plug the lightning connector to your device and manipulate the coil into whatever shape you desire. There is a "hand" that helps secure your phone, although it is primarily held in place by the lightning cable. A USB connector on the other end can be used to charge your phone.
Cobra Coil is essentially a small piece of flexible conduit with a USB connector on one end, and a smart phone connector on the other. You can use it to hold a phone in place while at home, work, or in the car. The USB connector can be plugged into to a computer, power bank, or wall USB charger. Suggested uses for Cobra Coil include a generic phone holder, tripod for photography, or for hands-free video or audio communication.
While the possibilities for using Cobra Coil are seemingly endless, there will be some limitations. You'll note that the advertising tends to show smaller phones being held by the device. A large phone, such as an iPhone 7 Plus in a case (which is what I use) will probably be too heavy in many configurations for Cobra Coil to hold up properly. I have used a nearly identical product to Cobra Coil, and I struggled to keep my phone held in place. The weight of the phone would slowly bend the coil until it fell over.
If you use a smaller phone, Cobra Coil will probably work about as advertised. Large phones with cases, however, may be too heavy to benefit from this design.
Alternatives
There is certainly no shortage of flexible phone holders. You may want to peruse comments on this ATEX model that looks remarkably similar to Cobra Coil, right down to the "hand" that holds the phone. Although it only costs $6, that item sports a rather dismal 2.2 star rating among over 150 consumer reviews. A similar, popular alternative may be something like this EverywhereFocus Cell Phone Holder, which sports the same basic design (sans charger), but has higher consumer ratings.
Television Commercial
Your Cobra Coil Reviews
What are your thoughts about Cobra Coil? Drop a comment below and a star rating above to let us know what you think about it.