Cold Fire is a fire extinguisher in the form of an easy to use spray can. Does it really work? Read our Cold Fire review.
Sponsored Links
About Cold Fire
Cold Fire is a spray can that can be used to extinguish fires. The product's As Seen on TV website is trycoldfire.com, which was registered in October 2016. The screen shot below shows how the product website appeared in December 2016. There is another product website at coldfire.biz, which was registered back in 2008.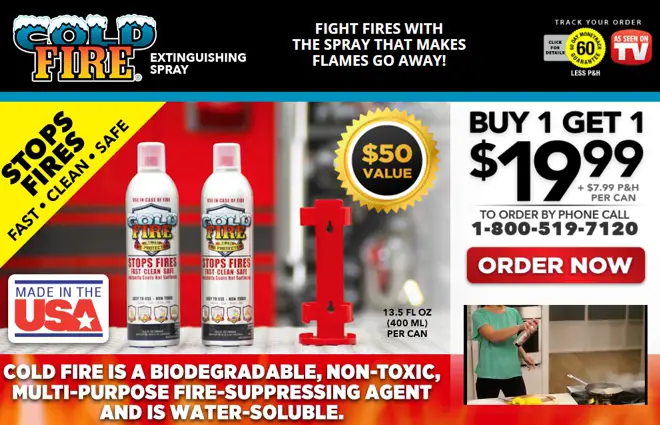 Claims & Features
Same formula used by fire departments
More effective than foam
Non-toxic, plant-based formula
Safe around children and animals
Can be used on any type of fire: grease, fabric, fuel, wood, and more.
Can extinguish class A, B, D, and K fires
Cost
Cold Fire costs $19.99 + $7.99 P&H. There is an option to add a second can for another $7.99 P&H. This brings your total to $27.98 for one, or $35.97 for two.
Sponsored Links
There are other options to purchase at coldfire.biz.
Cold Fire Review
Although Cold Fire has recently launched an As Seen on TV marketing campaign featuring pitchman Brian Hyder, this product has actually been around for about a decade (as evidenced by the two websites listed above).
Cold Fire offers the function of a fire extinguisher in the form of a spray can. Cold Fire is a fire suppressing agent that is non-toxic and environmentally friendly. To use, you simply aim and press the button, just as you would with any aerosol can.
Despite its "As Seen on TV" advertising feel, Cold Fire is the real deal, used (in larger capacity) by fire fighters and backed by RDR Technologies, a distributor to fire departments around the country.
Perhaps the only issue you may want to consider is that Cold Fire is not supposed to be stored above 120 degrees, which could mean you'd need to keep it out of your car in the summer months. Other than that, we have little to mention in terms of product "cons."
Overall, we think Cold Fire is an excellent product and those who have already used it generally agree that this works as advertised. Its simplistic and effective design could make it a good choice for those who may be slowed or confused by traditional extinguishers.
If you happen to need a larger container, the coldfire.biz website offers everything from the advertised spray can up to a $700 four-pack of extinguishers with a five-gallon refill.
Alternatives
Although the idea of a spray can fire extinguisher may sound new, there are numerous products in this category already available. Fire Gone is often a Best Seller in this category, and it can be found for about $11 for a single bottle. It often sports a 4.5 star rating or higher.
Your Cold Fire Reviews
If you've used Cold Fire, tell us what you thought by leaving a comment below and a star rating above.