Color Up is a color-changing solar-powered LED spotlight. Read our Color Up review.
Sponsored Links
About Color Up
Color Up is a solar-powered LED spotlight that can be projected onto your house, yard, or inside the home. The official product website is colorupoffer.com, which was registered in July 2016. Below is a screen capture showing the official website as it appeared in August 2016.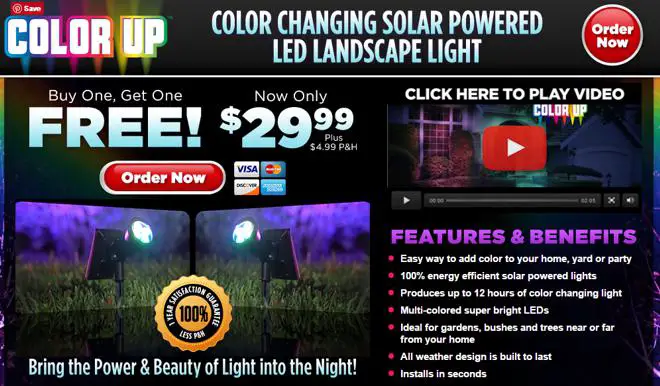 Claims & Features
Adds color to home, yard, or party
Energy efficient
12 hours of color changing lights
Multi-colored LEDs
All weather design
Installs in seconds
Cost
Color Up costs $29.99 + $4.99 P&H, which includes two lights (one of which is said to be free). This amounts to a cost of $17.49 per unit.
We haven't seen Color Up in stores as of August 2016. There is a one year money back guarantee, minus P&H.
Sponsored Links
Color Up Review
If the advertising for Color Up seems familiar, you have probably seen one of several LED light show products to hit the airwaves in recent years, as we discuss below. Those products are pinpoint laser light shows, while Color Up is more of a spotlight. The advertising for both types of products is quite similar, however.
Color Up offers a number of advantages over those LED light show products. This device provides a full spectrum of colors, unlike the ubiquitous white or red/green lights that many others offer. Additionally, Color Up is solar powered, meaning you don't have to worry about outlets or extension cords.
Color Up shares many design features with a couple of popular competitors on Amazon (see below). This bodes well for Color Up, as those are highly rated among customers who have tried them. Perhaps the biggest unknown at this point, however, is the battery life of Color Up. Will the battery last months or years? We have yet to answer that question. Battery life can be problematic for solar powered devices which use inexpensive materials, and it's still too soon to tell how Color Up measures up long-term. You may be interested in this article which discusses the lifespan of outdoor solar lights.
Overall we think Color Up will be highly rated by those who purchase it. At about $17.50 each, it is on par price-wise with the competition. The only unknown at this point is how long the batteries will hold up over time.
Because Color Up is such a new product, you may need to exercise patience with shipping times.
Alternatives
Ever since Star Shower Laser Light hit the airwaves a couple of years ago, a  number of LED light shows products have followed suit. We also recently took a look at StarTastic, which is similar to Star Shower.
Perhaps the closest to Color Up is the ZEEFO Solar Spotlight which is also solar powered and sports a similar design and function. Another option is the Amir Solar Light, which is currently the #1 Best Seller in its class on Amazon.
Your Color Up Reviews
What do you think of Color Up? Give us your opinion in the comments below and leave a star rating above.