Comfort Click Belt is a ratchet belt that is said to fit every time, all the time. Read my Comfort Click Belt review.
Sponsored Links
About Comfort Click Belt
Comfort Click Belt is a micro-adjustable ratchet belt with 32 positions, allowing for a perfect fit. The official product website is comfortclickbelt.com, which was registered in May 2016. The screen capture below shows how the official website looked in June 2016.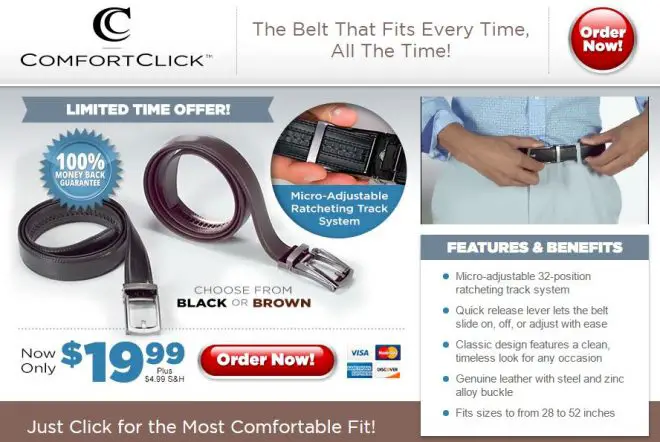 Claims and Features
32 position ratcheting track system
Quick release lever
Classic design
Leather belt with steel/zinc buckle
Sizes 28 to 48
Available in black or brown
Two sizes: Small/Medium (28″ – 40″) or L/XL (41″ – 52″)
Cost
Comfort Click Belt costs $19.99 + $4.99 shipping, for a cost of $24.98. There is a 30-day money back guarantee, minus shipping.
A Deluxe model is also available for $9.99 more, which includes "premium grade leather."
You can now find Comfort Click Belt in stores – typically in the As Seen on TV section – for about $20.
Comfort Click Belt Review
Comfort Click Belt is a ratcheted belt which allows you to quickly adjust to one of 32 positions, rather than using the standard 1-inch hole design.
Sponsored Links
The beauty of ratcheted belts is that you can easily change the setting in seconds by simply pressing a button and adjusting the belt. This can even be done while sitting down. Design-wise, Comfort Click Belt sports a traditional look which should match any outfit. The standard black and brown colors should also be suitable for most users.
Comfort Click Belt is a rare product where I am hard-pressed to find any significant "cons" to report. It is not the least expensive option in this category, but regarding the merits of the product, it is a solid offering with no major caveats.
Although the instructions state that you need to lift the buckle in order to loosen or tighten the belt, I found that you don't need to lift it in order to tighten in. Doing so, however, produces a rather loud ratchet sound. This rather loud sound could be somewhat awkward if you were to tighten your belt in a group of people. It's a minor "con" but perhaps worth mentioning.
If you have never tried a ratchet-type belt, you are missing out on a superior design to traditional belts, and Comfort Click Belt is an attractive and worthy entrant in this field. Price-wise, it is in the middle of the pack, with competing belts both more and less expensive. Most people who switch to ratchet belts never go back to using traditional belts.
If you're interested in perusing alternatives, you may want to consider an option such as EasyBelt 2.0, which also features a 32-position ratchet design. That belt costs about $18 and has an impressive 4.6 star rating on Amazon as of this writing. There are dozens of other ratchet belts you also may want to browse.
Should you decide to pick up Comfort Click Belt, I'm confident you'll find it to be a worthy investment.
Video Review
Below is my video review of Comfort Click Belt, with a hands-on demonstration of how to set it up and how it looks.
Television Commercial
Your Comfort Click Belt Reviews
Have you used Comfort Click Belt? Let me know what you think by leaving a comment below and a star rating above.
Updated December 2016