Comfy Cami is a seamless cami that zips on and shapes your figure. Does it work? Read our Comfy Cami review.
Sponsored Links
About Comfy Cami
Comfy Cami is a shaping cami that zips on and stays in place. The official product website is comfycami.com, which was registered in December 2014. You can see a screenshot below of the official website taken in September 2016.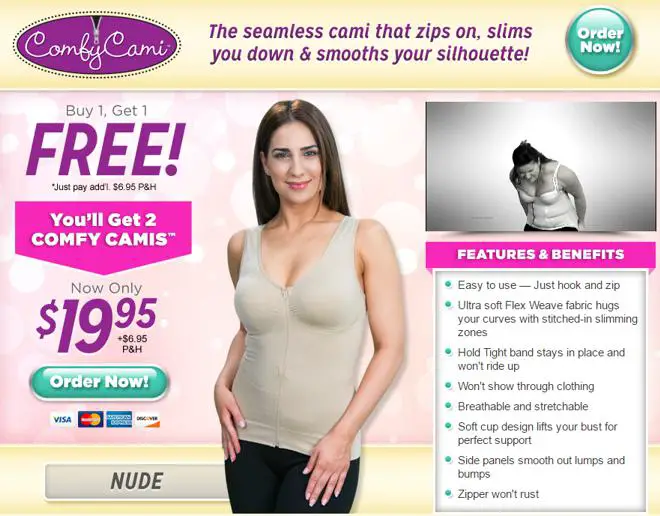 Claims & Features
Just hook and zip
Stays in place
Doesn't show through clothes
Cup lifts and supports bust
Side panels designed to smooth lumps and bumps
Non-rust zipper
Sizes Small (4-6), Medium (8-10), Large (12-14), XL (16-18), and XXL (20-22)
Cost
You can purchase Comfy Cami from the official website for $19.95 + $6.95 P&H. There is a mandatory double offer which includes a second unit for another $6.95 shipping. This brings your total order to $33.85 for two.
Sponsored Links
We spotted Comfy Cami at a couple of online retailers such as Harriet Carter and Carol Wright Gifts for about $15 for a single unit.
Comfy Cami Review
If the advertising for Comfy Cami seems familiar, you may have seen several other As Seen on TV shaping camis advertising in recent years (such as Cami Shaper, reviewed here). Although other shaping camis have been relatively well-received, a minority of consumers complained that they rode up or that sizing was problematic.
Comfy Cami is a seamless cami which features a zippered design and improvements which reduce the chances that it will ride up. This is achieved with a "Hold Tight Band" that helps the cami stay in place.
The zippered design is a nice feature which surprisingly few competing products offer. This allows the garment to be more easily put on or taken off.
The slimming features of Comfy Cami are on par with other shaping camis, especially in the tummy area. There are four "slimming zones" aimed at shaping your entire torso. This, combined with a seamless design, should keep the garment invisible underneath clothing.
Comfy Cami is machine washable and made of a nylon/elastane fabric.
Overall, Comfy Cami is a lightweight shaping garment that is comfortable and invisible. Its zippered front and "hold tight" band are nice additions to the typical shaping cami design.
We think Comfy Cami is a nice addition to the somewhat crowded field of shaping cami garments. Can it stand out among the competition? Only time will tell.
Alternatives
You can find pages of shaping camis on Amazon, although many of these do not sport the zipper design found in Comfy Cami.
Your Comfy Cami Reviews
Have you used Comfy Cami? Let us know what you think by leaving a comment below and a star rating above.