Comfy Critters are stuffed animals that can be changed into blankets, headrests, capes, or hats. Do they work? Read our Comfy Critters review.
Sponsored Links
About Comfy Critters
Comfy Critters are a stuffed animal that can be unfolded into either a blanket, pillow, body wrap, or head cap. The product website is mycomfycritter.com, which was first registered in April 2011. The screen capture below shows the official product website in February 2017.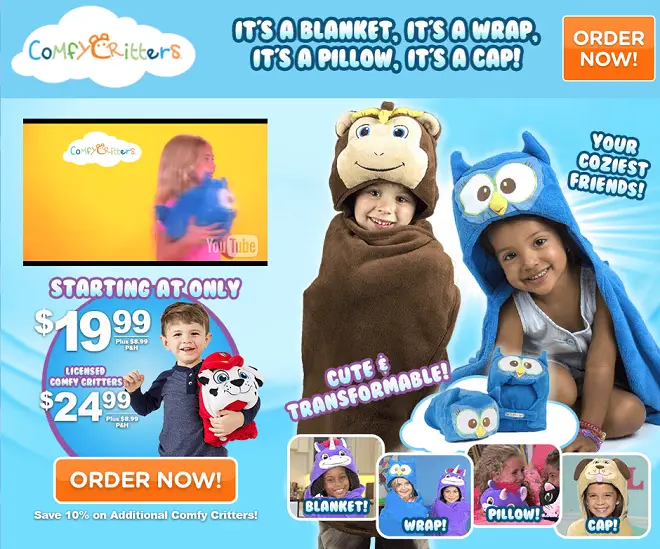 Claims & Features
Stuffed animal that can be converted to a blanket, pillow, robe, and/or head covering
Soft fabric
Appliance washable
Choice of over 20 critters
Simple to fold and store
Cost
Comfy Critters can be purchased for $19.99 + $8.99 P&H for a total of $28.98. Licensed Comfy Critters (featuring characters from Nickelodeon,  Teenage Mutant Ninja Turtles, and SpongeBob Squarepants) cost $24.99 + $8.99 P&H for a total of $33.98.
Sponsored Links
You can also find Comfy Critters on Amazon for about $28-$30 each.
Comfy Critters Review
Comfy Critters are not new, but they have returned in 2017 for a renewed advertising campaign. These plush character hooded blankets can be used as a blanket or pillow.
The appeal of Comfy Critters is that they can be used as a toy (that is, a costume), or function as a blanket or pillow. The designs are cute, the durability is pretty good, and the replay value is high.
Your child will enjoy the super soft fleece material that measures 36 inches by 47 inches. Converting it to a pillow isn't very difficult and most kids should be able to do that quite easily. Very young kids, however, may need help to perform this task.
The length of 47 inches is good for smaller kids, but taller kids may find part of their legs uncovered as they walk around in it.
There are two sets of Comfy Critter designs: Generic animals, and licensed characters from Nickelodeon which are slightly more expensive.
We suggest washing this separately from other items, as we found fuzz to be a problem when washing it. That fuzz can end up on other clothing washed with Comfy Critters.
Perhaps not surprisingly, Comfy Critters are made in China.
Overall, Comfy Critters delivers on the advertising promises. There are few caveats, other than washing it alone and the potential for being a bit short when worn by taller kids. If your child is drawn to the advertising, we think they'll be pleased with Comfy Critters. We find them to be soft, cute, and durable. Feedback from kids is overwhelmingly positive.
Alternatives
You may recall Bright Eyes Blanket from a few years ago, which also functioned as a character hooded blanket. It can usually be found for under $15.
Another similar product is Snuggie Tails, which advertised heavily in the second half of 2016, and can be found in stores. That item isn't a hoodie, but more of a character sleeping bag.
Television Commercial
Your Comfy Critters Reviews
Tell us what you think about Comfy Critters by leaving a comment below and a star rating above.