Comfy Sleeper is and adjustable layer pillow which can accommodate any person or sleeping style. Read our Comfy Sleeper review.
Sponsored Links
About Comfy Sleeper
Note: As of January 2017, Comfy Sleep appears to be no longer available. You may be interested in The Pancake Pillow, as Comfy Sleeper was essentially a knockoff of that product. If Comfy Sleeper returns, we'll update this space.
Comfy Sleeper is a layered pillow which allows you to adjust height or firmness. The official product website is comfysleeper.com, which was registered in March 2016. The screen capture below shows the official website as it appeared in July 2016.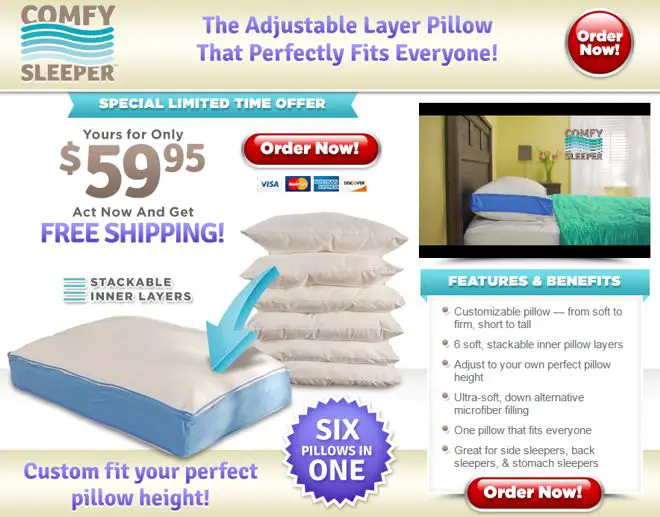 Sponsored Links
Claims & Features
Customizable from soft to firm, short to tall
Includes 6 stackable inner layer pillows
Down alternative microfiber
One pillow fits all
Good for sleeping on side, back, or stomach
Cost
You can purchase Comfy Pillow for $59.95, with free shipping. This includes one Comfy Sleeper zippered case and 6 stackable pillows. There is a 90-day money back guarantee.
As of this writing, we have not seen Comfy Pillow available in stores.
Comfy Sleeper Review
Comfy Sleeper is an adjustable layer pillow which allows you to customize the softness and height by means of 6 pillow inserts. You add or remove these pillow inserts to achieve your desired firmness and height.
The "down alternative" material is very soft, which allows all six inserts to be compressed into one pillow case. As more inserts are added, the pillow will become firmer and taller, offering the user the ability to tailor it to suit their own needs.
In general, Comfy Sleeper should work as advertised for most individuals. The ability to experiment with different layers is an excellent way to get the ideal size and comfort level.
Despite the ability to adjust firmness, even when all six layers are inserted, Comfy Sleeper may still be too soft for those who prefer the firmest of pillows.
The comfort of any pillow is highly subjective, and every consumer has their own preferences. Some individuals may prefer very hard and tall pillows, while others may use very soft or thin pillows.
Despite Comfy Sleeper's claim that one size is for everyone, it stands to reason that there will be some users who are still not satisfied. Those who like extremely thin pillows, for example, probably wouldn't benefit from a product that offers so much height and firmness.
For the average consumer, Comfy Sleeper will be well-received. Those who prefer very firm or very thin pillows may not be as satisfied.
Alternatives
Comfy Sleeper can be described as a knockoff of a product called The Pancake Pillow, which features a nearly identical design and function. Even the blue color along the side of the pillow is similar. The Pancake Pillow also offers 6 inner pillows which stack inside a single pillow case. That product has a solid 4.5 star rating and costs about $80.
Your Comfy Sleeper Reviews
If you've used Comfy Sleeper, tell us what you thought by leaving a comment below and a star rating above.