Comfy Walk Insoles are shock absorbing insoles that improve balance and foot alignment. Do they work as advertised? Here is our Comfy Walk Insoles review.
Sponsored Links
About Comfy Walk Insoles
Comfy Walk Insoles are comfortable copper infused insoles that feature five layers of Optron shock absorbing cushion. The official website is comfywalk.com, with a registration date of December 2014. The screen capture below was taken of the product website in June 2017.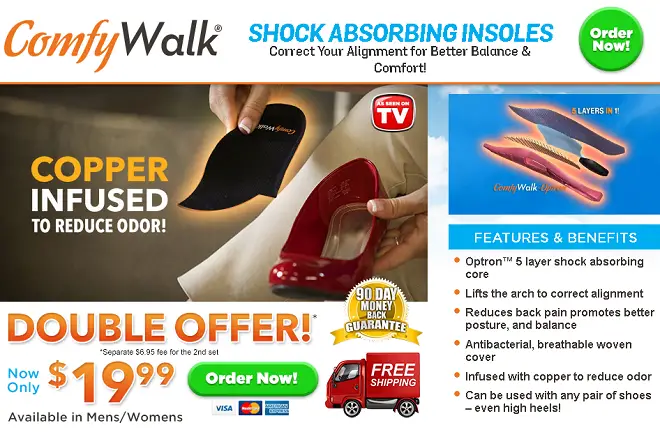 Claims & Features
5 layers of shock absorption
Adjusts alignment of feet by lifting arches
Decreases back pain while boosting balance and posture
Interwoven surface with antibacterial properties
Copper infusion diminishes foot odor
Compatible with any shoes (even high heels)
Cost
A set of Comfy Walk Insoles costs $19.99. There is an optional double offer for a separate fee of $6.95 which would bring the total to $26.94. Shipping is free on all offers. They come in two style variations: male or female. At the time of this writing, Comfy Walk Insoles are not available in stores.
Comfy Walk Insoles Review
Comfy Walk is a five-layer insole that is designed to lift the arch in order to correct alignment and relieve back pain. It is also infused with copper which is said to help reduce odor.
Sponsored Links
As someone who has dealt with overpronation, and with family and friends who I've talked to about numerous foot and back ailments, my first response to any insole is that it is impossible to know if anyone will benefit until they use it. Those with back and feet problems often have to go through years of trial and error in order to find products that help them. That said, Comfy Walk does offer a solid insole that appears to be well made and delivers five layers of comfort.
There are numerous insoles on the market with a wide variety of designs. Comfy Walk does not span the entire length of the foot, but raises the heel and arch, and tapers off around mid-sole. This type of sole is good for conditions such as overpronation and underpronation. The lack of toe support is not a problem in most cases, but there are situations where support reaching the toes would be beneficial, such as those who stand for long periods of time. Again, trial and error is the best way to find the right solution for you.
Another variable is the shoe into which this will be placed. Some shoes have a removable sole, while others don't. There are instances where it's better to leave the existing sole and place the insert on top of it, while removing it is the better option in other cases. This depends largely on how well your existing shoes fit.
In the end, Comfy Walk appears to be a high quality insole that elevates the heel and arch. As with any insole you purchase online, you are taking a bit of a risk in ordering these because you won't know if they address your specific problem until you try them yourself. If you feel like you've exhausted your local options, this could be a good item to try.
Alternatives
You may want to look into 3/4 length orthotic insoles such as this Dr. Foot model that costs about $12. Copper Fit Balance is another insole that has been heavily advertised as a way to correct posture and balance. Below you can see my full review of that product.
Your Comfy Walk Insoles Reviews
What are your thoughts about Comfy Walk Insoles? Drop a comment below and a star rating above to let us know what you think about it.