CoolSculpting is a procedure which eliminates unwanted fat without surgery or downtime.
Sponsored Links
About CoolSculpting
CoolSculpting is a non-invasive procedure which freezes fat cells, which die and are eliminated by the body.
The product website is coolsculpting.com, which was registered in March 2008. The screen capture below shows the official website in August 2015.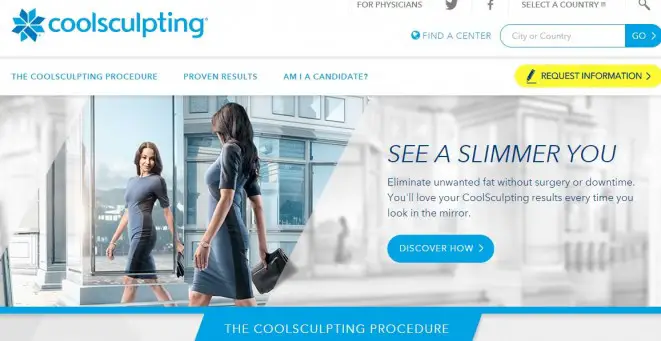 Sponsored Links
What They Claim
Eliminate fat without surgery
No downtime
Freezes and eliminates fat cells
FDA-cleared
Millions of treatments performed worldwide
CoolSculpting Cost
Because CoolSculpting is performed by a variety of specialists from spas to plastic surgeons, the cost varies. According to Paula's Choice, the procedure ranges from around $700 – $3000, depending on the area being treated.
Reviews
CoolSculpting has been around for several years, although it is currently engaged in a television advertising campaign. The procedure is done at a local certified center, which is typically a spa or plastic surgeon's office.
The short of it is that CoolSculpting does work. The simple and pain-free procedure basically kills fat cells in strategic areas, allowing you to "sculpt" your figure. The fact that may come as a surprise to some people is that the procedure is permanent. Once those fat cells die, they don't come back. That means that whatever weight you gain in the future will be stored in any fat cells that still exist in your body.
CoolSculpting isn't really ideal for those who are very overweight, or don't suffer from circulatory disorders. It does not help with cellulite.
The cost is probably what dissuades most customers, but for those who do try it, CoolSculpting is a phenomenal procedure that works wonders.
Television Commercial
Your CoolSculpting Reviews
Let us know what you think of CoolSculpting by leaving a comment below and a star rating above.