Copper Chef Bacon Crisper is an oven-based crisping set that is primarily used to cook bacon. Does it really work? Here is my Copper Chef Bacon Crisper review.
Sponsored Links
About Copper Chef Bacon Crisper
Copper Chef Bacon Crisper is an air frying crisping pan that can be used in the oven to bake crispy bacon. The official product website is trybaconcrisper.com, which was registered in October 2017. The screenshot below shows how the product website looked in November 2017. As of this 2020 update, the website now forwards to the generic Copper Chef website.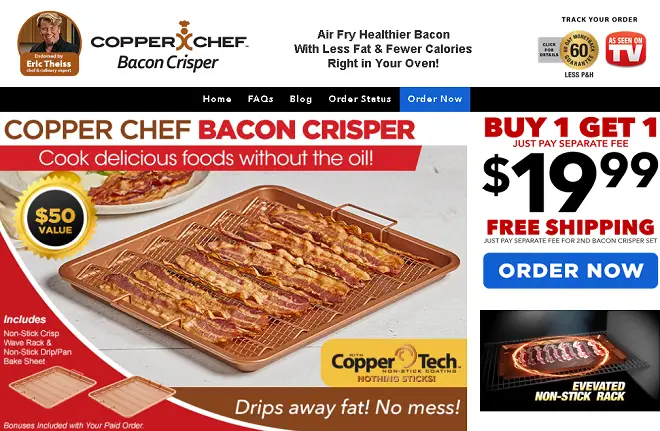 Claims & Features
Reduced fat and grease calories with the raised nonstick crisp wave rack
360 degree heated air circulation (no need to turn or flip bacon)
Can hold up to 12 slices of bacon
Compatible with thin or thick cuts of bacon
Also makes meatballs and mozzarella sticks
Drip pan can also be used as a nonstick baking sheet
Simple to clean (safe for dishwasher)
Cost
The Copper Chef Bacon Crisper was $19.99 while it was advertised. You can still find it on Amazon for about $19.
Copper Chef Bacon Crisper Review
The number of Copper Chef, Gotham Steel, and Red Copper cookware items being advertised on television these days is dizzying. Today I'm taking a look at the Copper Chef Bacon Crisper, which is advertised as a way to make up to 12 pieces of crispy bacon right in the oven. Its highlighted feature is that of a mesh sheet that lies on top of a lower drip pan. Bacon is said to cook from all angles, while grease drips safely away. Because heated air touches all sides of the back, we are told that there is no need to flip or turn during cooking.
When I saw the advertisement for this item, I immediately thought of two previous products I've reviewed on my YouTube Channel: Copper Crisper and Bacon Bonanza. Copper Crisper is a mesh baking set, which primarily differs from this product with a flat mesh basket, as opposed to the "wave" design of the basket with this crisper. Bacon Bonanza is another "copper" product that allows you to make bacon in the oven, but it requires bacon to be set on its side.
Sponsored Links
I do like to prepare bacon in the oven. It is something I've done for years, and I'm usually happy with the results. That said, I've also tried bacon in the oven with some of these newer devices, and I haven't found them to out-perform more traditional methods.
Functionally, the Copper Chef Bacon Crisper should work about as advertised – with a few caveats. It may take slightly longer to cook because the bacon is not in direct contact with a hot flat surface, but otherwise the end results should be acceptable. Although the "360 degree" cooking would make you think that this might cook faster, the opposite is true. The heated air doesn't cook the bacon as quickly as a hot surface.
Another issue I've discovered with the Copper Crisper, Gotham Steel Crisper Tray, and Bacon Bonanza is that the bacon doesn't cook evenly unless I rotate and flip it. Even though the advertising states there is no flipping and turning, you may still need to do that to get optimal results. The could also be affected by your oven.
The bigger concern I have is with the nonstick surface. Having reviewed numerous second-gen nonstick products, I can tell you that the results are always impressive – at first. Unfortunately, the nonstick properties can quickly degrade when exposed to high heat, scrubbing, or abrasives. You can work around those limitations when you're using a pan to cook low-heat items like eggs. When putting these products in a hot oven, however, I wouldn't expect much life out of the nonstick surface. Both my Copper Crisper and Gotham Steel Crisping Tray had virtually no nonstick properties left after only a few uses.
In the end, I see little difference between the Copper Chef Bacon Crisper and the Copper Crisper, other than the "wave" design of the mesh basket. I wouldn't count on the nonstick surface to last, and you'll probably still need to flip and rotate the bacon halfway through its cook cycle. If those limitations don't bother you, then this will probably be an ideal fit for you.
Alternatives
As noted above, you can walk into any store and buy a Copper Crisper, which is virtually the same idea as this. If price is a concern, this simple bacon oven rack seems to fit the bill for many consumers.
Related Videos
Below are two videos for products I reviewed very similar to this. The first is my comparison of two copper crisping products. The next is a comparison of the newer Bacon Bonanza vs the older microwave Bacon Wave.
Your Copper Chef Bacon Crisper Reviews
Have you used Copper Chef Bacon Crisper or something like it? Leave a comment below and let me know what you think.
Updated June 2020