Copper Chef Bake and Crisp Pan is a baking and crisping set that performs a variety of cooking functions. Does it really work? Here is my Copper Chef Bake and Crisp Pan review.
Sponsored Links
About Copper Chef Bake and Crisp Pan
Copper Chef Bake and Crisp Pan is an extra large nonstick pan that can bake, roast, crisp, slice, store, and serve ideal portions. The official product website is bakeandcrisppan.com, which was registered in February 2017. The screenshot below shows how the product website looked in October 2017.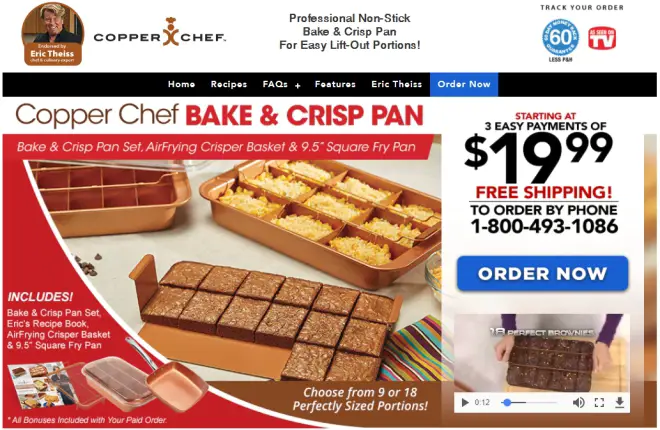 Claims & Features
Produces ideal portions
Panels distribute heat for even cooking
Adjust slicing divider for 9 or 18 portions
Portable transparent storage lid
Easy lift tray will not stick
Nonstick coating
Safe to wash in dishwasher
Air fry with the included crisper basket
Cost
There are two main offers when ordering Copper Chef Bake and Crisp Pan. The first is the Bake and Crisp set which costs $59.97 and includes the pan, an airfrying crisper basket, a recipe book, and a 9.5″ square fry pan. Payment can be made in full or split into three installments of $19.99. The second offer is the Complete Bakeware set which costs $119.97 and includes the pan, an airfrying crisper basket, recipe book, 9.5″ square fry pan, cookie sheet, 12 cup muffin pan, loaf pan, square pan, and 8 ramekins. As with the other offer, payment can be paid in total or split into three installments of $39.99. Shipping is free on both offers. In addition, there are multiple options to add supplementary items which will further increase the total price.
Copper Chef Bake and Crisp Pan Review
When I first saw the ad for Copper Chef Bake and Crisp Pan, I immediately knew it looked familiar. In fact, it is almost identical to the Red Copper Brownie Bonanza and the Gotham Steel Brooklyn Brownie Copper. The Copper Chef brand, however, has wisely improved on the design slightly to accommodate more than just brownies.
Sponsored Links
There are three components to Copper Chef Bake & Crisp: A bottom pan, an "easy lift tray," and two dividers. To use this pan, you put the easy lift tray in the bottom of the pan and then add your ingredients, such as brownies, lasagna, cake, etc. You'll then press one of the two dividers down into the food, and cook. When it's done, you simply remove the divider and lift out the tray, giving you perfectly cut portions right out of the oven.
Unlike its other brownie-only counterparts, the Bake & Crisp offers two dividers, for 18 or 9 portions. The easy lift tray is also an improvement over the the Brooklyn Brownie Copper, which requires you to place the pan onto something like a jar in order to lift out the contents. Thus, the Copper Chef product offers a more elegant solution to dividing and removing its portions.
There are some types of foods where this will be more useful than others and you may only figure that out via trial and error. In fact, there are some foods in which I may ditch the divider altogether and simply use the easy lift tray to remove the food from the pan.
There are a few items to consider with pans like this. The first thing is that I've found the dividers tend to isolate each portion, and getting all of them to evenly cook is sometimes problematic. Anyone who has made a cake in a square pan knows that the corners tend to brown before the rest of the cake is done. When you add dividers into the mix, it seems to only enhance this scenario. I've had crusty brownies on the sides and mushy brownies in the middle with these brownie pans.
Another item to consider is that this new generation of "nonstick" copper cookware works great at first, but often quickly degrade. There are numerous variables that contribute to this, such as abrasive scrubbing and exposure to high heat.
Overall, I think the design of the Copper Chef Bake and Crisp is an improvement over its Red Copper and Gotham Steel counterparts. While those are readily available in stores, I have not seen the Bake & Crisp locally yet, which means you may be forced to spend time and money to have it shipped. I'm not sure that these pans are as versatile as depicted, and in some cases may be better without the dividers. When this becomes available in stores, it will be the best choice among the three.
Alternatives
As noted, the Brooklyn Brownie Copper is a very similar device, aside from the lift tray and second divider. The Red Copper Brownie Bonanza is even closer to the Bake & Crisp because it also uses a lifting tray. You may also be interested in watching my full review of Brooklyn Brownie Copper below.
Television Commercial
Your Copper Chef Bake and Crisp Pan Reviews
Have you used Copper Chef Bake and Crisp Pan or something like it? Leave a comment below and a star rating above to let us know your thoughts.