Copper Chef Copper Eggs Review: Hard-Boil Eggs Without Shells?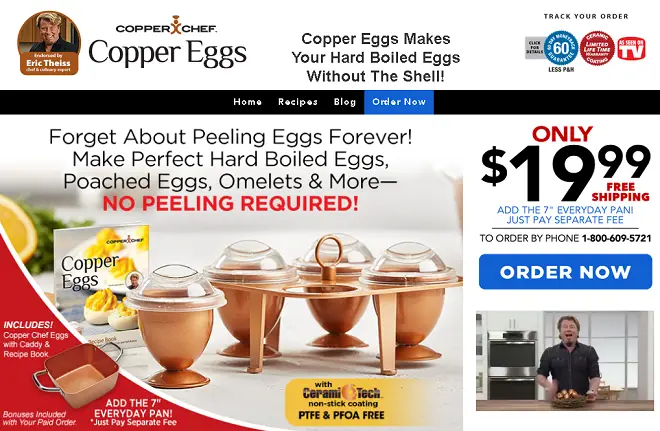 Copper Chef Copper Eggs is an egg cooker that eliminates the need to peel shells from hard-boiled eggs. Does it really work? Here is my Copper Chef Copper Eggs review.
Sponsored Links
About Copper Chef Copper Eggs
Copper Chef Copper Eggs is a nonstick egg-shaped cooker which allows you to hard-boil eggs without the shells. The official product website is coppereggs.com, which was registered in November 2017. The screenshot below shows how the product website looked in January 2018.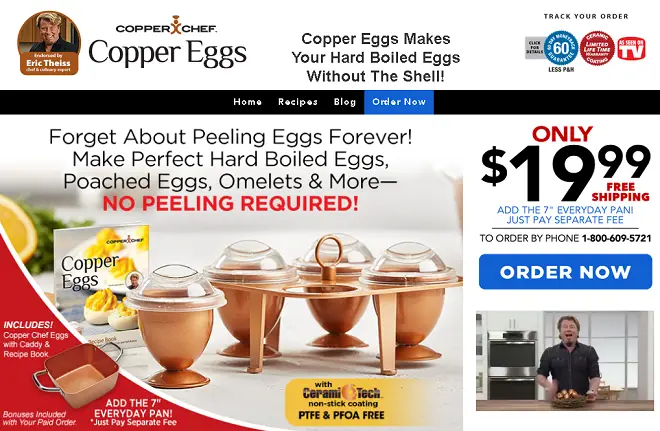 Claims & Features
Nonstick coating (cleans easily)
Makes all kinds of eggs (poached, deviled, egg whites, omelets, and hard, medium, or soft boiled)
Save leftover eggs in the refrigerator for salad toppings, egg salad, lunch preparation, etc.
Also use for baking (cheesecake bites, creme brulee, etc.)
Safe for use in dishwasher
Cost
Copper Chef Eggs costs $19.99. There is an optional offer to add a 7″ Everyday Pan for a separate fee of $9.99 which would raise the total to $29.98. Shipping is free on both offers. Each order comes with the Copper Chef Egg Caddy and a recipe book. As of this writing, Copper Chef Copper Eggs isn't sold in stores.
Copper Chef Copper Eggs Review
If you thought making a hard-boiled egg required it to be cooked in the shell, you may be surprised to find out that a device like Copper Chef Copper Eggs actually allows you to hard-boil eggs without the shell. This is achieved by an egg-shaped pod that functions as the shell but doesn't require any peeling.
To use Copper Chef Copper Eggs, you simply crack open an egg into the pod, cover it, place the pod in the caddy, and place it in boiling water. After about 15 minutes, you'll have perfectly-shaped hard-boiled eggs that slide right out. Because the pods are egg-shaped, you'll still get hard-boiled eggs that look like you'd expect. The only difference, which is probably an advantage, is that one end is flat, meaning you can actually stand these up on end. If you want to get creative, you can also add a few other ingredients to the egg before you cook it.
This is not the first product to offer this design (see below), although there are some slight differences which may make this worth considering. The nonstick surface is something that older competitors sorely lacked. The caddy is also a nice touch, although I would have rather received two more pods than a caddy.
Sponsored Links
I've used numerous Copper Chef items and have found that the nonstick surface can be problematic in some circumstances, especially when exposed to high heat. Because this product isn't likely to be exposed to the same kind of heat as you might see with a steak in a pan, I believe the nonstick surface will hold up over time.
Overall, I believe Copper Chef Copper Eggs will deliver on its advertising promises, although the price seems a bit high for only four pods. I'd probably wait until this arrives in stores, if it ever does. Otherwise, there are certainly other options out there.
The website for Copper Chef Copper Eggs was only registered in November 2017 which tells me this is likely still being test marketed. It may have been supplanted by the Copper Chef Perfect Egg maker, which you can see reviewed below.

Alternatives
Copper Chef Copper Eggs seems to be competing with another hot product at the moment called Egglettes. That is a set of six silicone pods that function the same as this Copper Chef offering. The primary differences are that Egglettes are pliable, while the Copper Eggs pods are rigid. You also get six Egglettes, while you only get four from Copper Chef, although you get a caddy with Copper Chef and not with Egglettes.
Both of these products seem to be inspired by an older As Seen on TV product called Eggies, which functions similarly but does not have a nonstick surface. Thus, oil or spray is needed to keep the pods clean. Otherwise, the function is the same. EZ Eggs is another As Seen on TV product that functions the same, and it even has a caddy like the Copper Chef model. That can usually be found for under $10.
Your Copper Chef Copper Eggs Reviews
Have you used Copper Chef Copper Eggs or something like it? Leave a comment below and a star rating above to let us know your thoughts.