Copper Chef Grill Mat is a nonstick mat that keeps your grill clean and closes the gaps while you prepare food on the grill. Does it work? Read our Copper Chef Grill Mat review.
Sponsored Links
About Copper Chef Grill Mat
Copper Chef Grill Mat is a nonstick mat that allows you to grill food without creating a mess. The official product website is copperchefgrillmat.com, with a registration date of October 2016. Below is a screen shot of the official website taken in November 2016.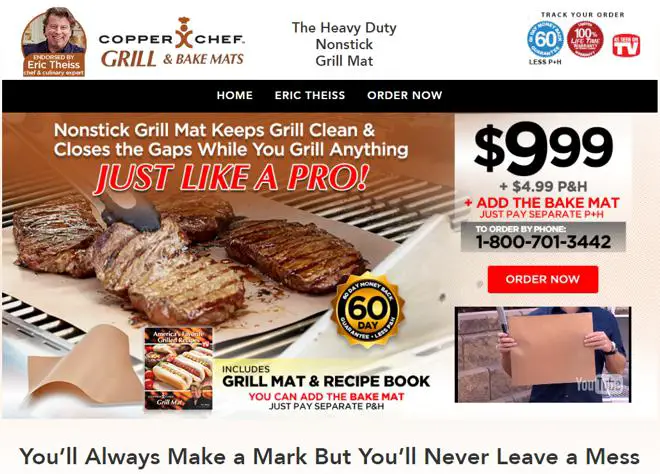 Claims & Features
Can withstand temperatures up to 600 degrees
Lessens burnt food and flare ups
Baste stays on food
Non-stick coating
Leaves perfect grill marks
Reversible and reusable
Cost
Copper Chef Grill Matt costs $9.99 + $4.99 P&H. You can add the bake mat for another $4.99 P&H. This brings your total to $14.98 for the grill mat only, or $19.97 for the grill and bake mats.
As of this writing, this product is not available in stores.
Copper Chef Grill Mat Review
Copper Chef Grill Mat is a nonstick mat which is advertised as a way for you to keep your grill clean, while retaining juices from your food.
To use, you simply lay the mat down on your grill and place your food upon it. Designed to handle temperatures up to 600 degrees, this grill mat is said to minimize flareups while also retaining those coveted grill marks.
Sponsored Links
If the idea of a nonstick grill mat looks familiar, you've probably seen several similar products which have been advertised in recent years (see below).
There are a number of pros and cons you may want to consider before making your final purchase decision.
Pros
Keeps grill clean. Your grill will be spared from grease, fat, and drippings.
Forget Flare-Ups. The lack of juices dripping into your grill will produce less flare-ups, exactly as advertised.
Nonstick surface. Food won't stick to the surface, meaning your burgers won't cause problems on that first vital flip.
Good for some foods. Grilled veggies and fish are ideal choices to use with barbecue mats.
Cons
Still requires cleaning. Although your grill may remain clean, you'll need to clean this item, and that could entail bringing grease into your sink. That may not be a worthy trade-off to some consumers.
Forget grill marks. Despite what is advertised, we have never been able to achieve grill marks with mats like this. Nor have other expert reviewers.
Stagnant juices. When grilling something like hamburgers, you'll notice the meat sitting in its juices, which tend to burn and affect flavor.
Overall, if your expectations are realistic, you may find Copper Chef Grill Mat has a place in your culinary arsenal. Don't expect grill marks, and understand that juices from meats will not fall into the grill, which could affect the way you prepare food using this product.
A little trial and error will go a long way to determining the best way you can use this item. There are other options out there, both online and in stores, which offer about the same experience. It may pay to shop around.
Alternatives
There have been several grill mats advertised on television over the last two years. You may recall two different Yoshi Grill Mats that hit the airwaves in 2014 and 2015. Miracle Grill Mat (review) was also heavily advertised, and can still be found online.
After these As Seen on TV grill mats hit the airwaves in 2014, a number of barbecue grill mats arrived on the scene, offering about the same size and shape as their popular counterparts.
The Kitchen Joy BBQ Grill Mat is currently an Amazon #1 Best Seller, with a $12 price tag for three mats. It sports a 4.5 star rating among over 600 consumer ratings.
Television Commercial
Your Copper Chef Grill Mat Reviews
Have you used Copper Chef Grill Mat? Give us your thoughts by leaving a comment below and a star rating above.