Copper Chef King Review: Does it Work?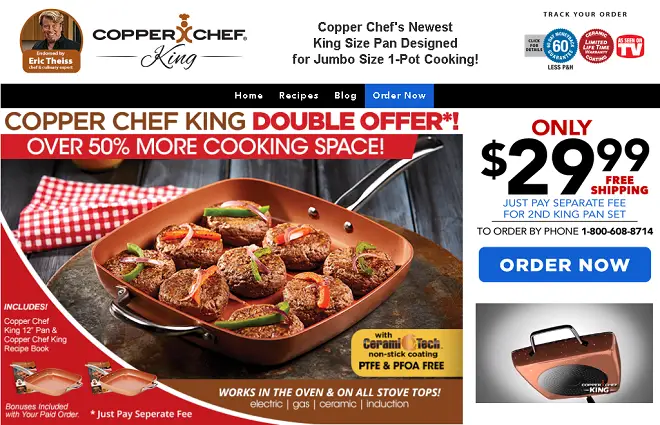 Copper Chef King is a 12″ pan that provides 50% more cooking space for large meal preparation. Does it really work? Here is my Copper Chef King review.
Sponsored Links
About Copper Chef King
Copper Chef King is a square 12″ pan that features Cerami-Tech nonstick coating, high sides, riveted handles, and a stainless steel induction plate. The official product website is copperchefking.com, which was registered in November 2017. The screenshot below shows how the product website looked in January 2018.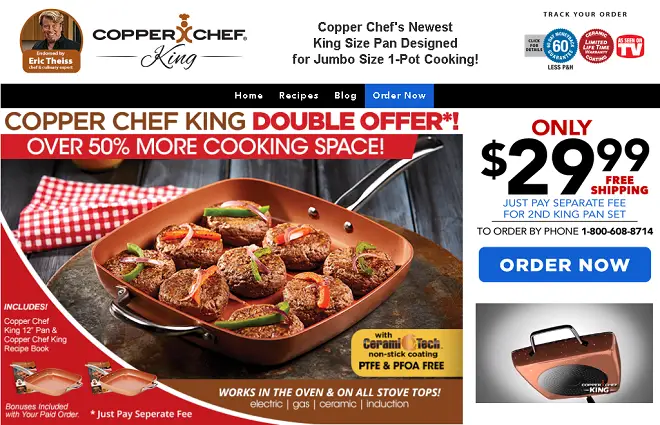 Claims & Features
Compatible with any oven or stove-top
Pan can hold 9 burgers, 6 pork chops, or 9 grilled cheeses
Fast and even heating with the stainless steel induction plate
High sides ideal for cooking lasagna, nacho platter, party dips, etc.
Includes riveted handles
Surface covered with nonstick coating
Withstands heat up to 850 degrees
Dishwasher safe for quick and simple cleaning
No PTFE or PFOA
Cost
The Copper Chef 12″ King pan costs $29.99. There is an optional double offer for a separate fee of $9.99 which would raise the total to $39.98. Shipping is free for both offers. Each Copper Chef King comes with a recipe book. As of this writing, I have not seen Copper Chef King in stores.
Copper Chef King Review
You have no doubt seen commercials for what I'd call the "Big 3" in infomercial cookware: Copper Chef, Red Copper, and Gotham Steel. These three As Seen on TV brands have produced a steady stream of nonstick cookware over the past two years. Copper Chef King is one of the newer entrants in this crowded field, but promises 50% more cooking space than other pans while still delivering their Cerami-Tech nonstick coating.
Copper Chef King is a 12-inch square pan that includes a stainless steel induction plate on the bottom, which helps distribute heat. It also has sturdy riveted handles and their non-stick coating. It can be used on the stovetop or in the oven.
There are two primary features I think that are worth discussing: The nonstick surface and the size.
Sponsored Links
I have considerable experience with As Seen on TV nonstick pans, dating back to the OrGreenic pans from around 2012. Although each brand has its own nonstick coating, I've found far more similarities between them than differences. Reviews for all three of these brands tend to follow the same pattern. Most people are highly impressed after the first use, then go online and fire off a ringing endorsement. For some consumers the accolades continue over time, while others find the nonstick surfaces quickly degrade to the point of being unusable. There are a number of variables as to why that is the case, but I've found that high heat is the biggest culprit in degrading these surfaces. And, despite the advertising, using metal utensils or abrasives can and will scratch the surface. Thus, how these pans are used will likely determine if you enjoy it over time or only get a few good uses out of it.
You may want to read the reviews for the smaller Copper Chef Pan to see what other consumers are saying about the nonstick surface. Other than a 2.5-inch difference, that pan and this "King" counterpart are identical.
As far as the size goes, a 12″ pan is certainly a good size, but it isn't exceptional. I wouldn't expect to make nine hamburgers in a pan this size unless the patties were pretty small. It certainly is a size that I prefer over smaller pans, but the advertising seems to indicate that this is a behemoth griddle-sized pan, which it is not.
Cleaning is usually not a problem, provided you didn't use very high heat. I like to let these pans cool for a few minutes, then gently wipe them clean with soap, warm water, and a moist paper towel. That is what I've found makes them last over time. The only area that takes a little work to keep clean is around the two rivets that connect the handle.
If you've had a positive experience with one of these newer nonstick pans, Copper Chef King may be a good fit for you. If you've had a bad experience with these types of pans, I wouldn't expect Copper Chef King to perform any better. If, however, you've never taken the plunge with one of these newer copper pans, I don't think Copper Chef King is a good place to start. You can pick up nonstick copper pans at a local retailer such as Bed Bath and Beyond (and use a 20% coupon), without having to pay for shipping and wait weeks for it to arrive.
Alternatives
You can find quite a few square 12-inch copper pans from a cursory search on Amazon. As mentioned earlier, there is also a smaller 9.5″ Copper Chef Pan that is more readily available and can be found for under $20. There is also a Red Copper two-pack that includes both 10″ and 12″ square pans which are very similar to the Copper Chef offerings. Not to be outdone, Gotham Steel also has a line of square pans, including this 9.5-inch model.
As noted above, this new generation of nonstick cookware requires more care than the advertising indicates. My review below of the Red Copper Pan gives a good overview of how to care for this type of pan.
Your Copper Chef King Reviews
Have you used Copper Chef King or something like it? Leave a comment below and a star rating above to let us know your thoughts.