Copper Chef Perfect Cake Pan is a nonstick baking pan that includes two inserts. Does it work as advertised? Here is our Copper Chef Perfect Cake Pan review.
Sponsored Links
About Copper Chef Perfect Cake Pan
Copper Chef Perfect Cake Pan is a 9-inch circular cake pan that includes a pocket insert and a checkerboard cake cutter insert. The official website is tryperfectcakepan.com, with a registration date of February 2017. The screen capture below was taken of the product website in May 2017.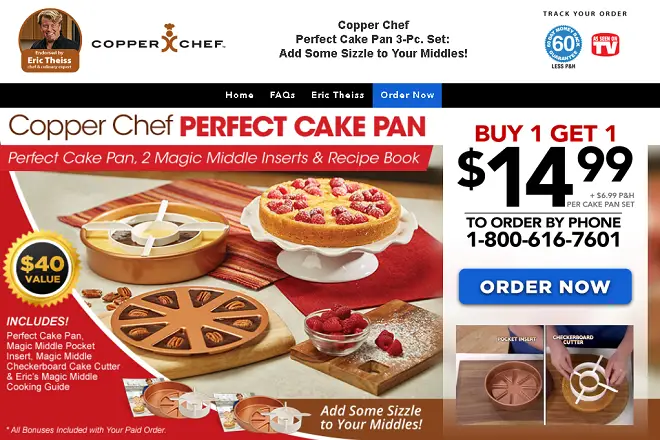 Claims & Features
Evenly heats when baking
Nonstick surface
Choose and combine your favorite flavors & fillings
Get bakery quality at home
Pan withstands heat up to 550 degrees
Cost
Copper Chef Perfect Cake Pan costs $14.99 + $6.99 P&H for a total of $21.98. There is an optional double offer for a separate fee of $6.99 for the second pan. Choosing this double offer raises the total to $28.97. Each pan comes with two different Magic Middle inserts and a cooking guide.
Copper Chef Perfect Cake Pan Review
If you saw an ad recently for Copper Chef Perfect Cake Pan, you may have been impressed by the demonstrations. Or, if you are a bit more cynical, you may have wondered just how many of these "copper" products can be pitched in a single year. It seems like a new "copper" cookware item is released almost every week. But alas, our friend Eric Theiss is back with yet another copper item to make life in the kitchen easier.
Sponsored Links
Copper Chef Perfect Cake Pan is a nonstick pan insert that allows you to make cakes with pockets that can be filled with various ingredients.
If the description sounds familiar, you may have seen commercials years ago for a product called EZ Pockets, which is basically a metal version of this item. The concept behind EZ Pockets was about the same as Copper Chef Perfect Cake Pan: You lay the insert in the cake pan, pour batter on top, and bake. When complete, you flip over the cake and remove the insert to reveal pockets which can be filled with various items. More recently, an item called Crazy Cakes (review) had a relatively robust advertising campaign. That item is also a cake insert with a slightly different design.
A few months ago, a product called Magic Middles was briefly advertised, and looked a lot like this product. In fact, the website used to promote that product now forwards to the website for this item. Thus, it would appear that the makers of Magic Middles added a copper coating and re-branded it under the Copper Chef name.
It's a relatively simple design, yet consumers have noted that this type of device as something that can be used for a variety of items, and not just cakes. Although the device is said to be nonstick, you may want to keep a nonstick spray or oil on hand just in case you find food sticking. As with EZ Pockets, there will probably be some trial and error involved to getting this right, but once you get the hang of it, you'll probably be able to easily achieve results similar to that shown in the commercials.
As with every Copper Chef, Red Copper, and Gotham Steel product I've written about, I'd advise you to baby the surface of this item to get the most out of it. Although this current generation of copper cookware is often advertised as scratch-resistant, I've found they scratch quite easily, and the surface can degrade under high heat or rough scrubbing. I recommend washing it with warm water, soap, and a paper towel.
Overall, if the advertising looks compelling, you will probably find Copper Chef Perfect Cake pan to provide enough use to make it worth considering. There are, of course, similar options you may want to explore.
This is a very new product, as evidenced by its February 2017 website registration date. This could mean that the item is still only being test marketed to determine consumer interest. If that is the case, you may want to exercise patience during the shipping process.
Alternatives
As noted above, EZ Pockets is a product that has been around for years and can still be found for about $6. A little cooking spray could probably make that about as nonstick as the Copper Chef model.
Your Copper Chef Perfect Cake Pan Reviews
What are your thoughts about Copper Chef Perfect Cake Pan? Drop a comment below and a star rating above to let us know what you think about it.