Copper Chef Perfect Loaf Pan is a nonstick baking pan for cooking various loaves. Does it work as advertised? Here is our Copper Chef Perfect Loaf Pan review.
Sponsored Links
About Copper Chef Perfect Loaf Pan
Copper Chef Perfect Loaf Pan is a pan with a nonstick coating that can be used for baking meatloaf, roasts, breads, and various desserts. The official website is perfectloafpan.com, with a registration date of February 2017. The screen capture below was taken of the product website in June 2017.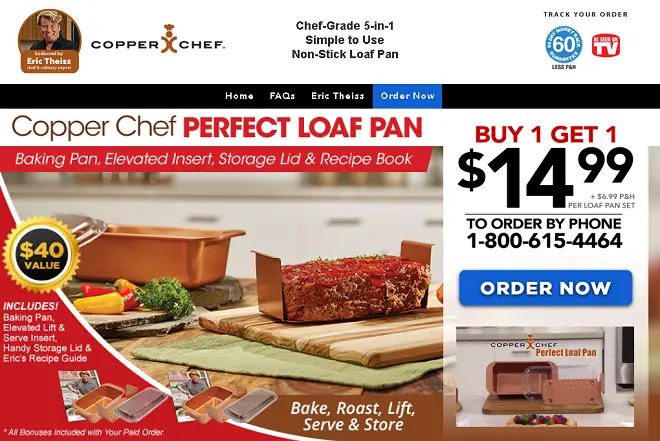 Claims & Features
Cooks food evenly
Eliminate fat & grease with the elevated air crisp serving tray (reduces fat & calories)
360° Air Crisp Technology
Heated air circulates all around food
Withstands temperatures up to 550°
Cost
Copper Chef Perfect Loaf Pan costs $14.99 + $6.99 P&H for a total of $21.98. There is an optional double offer where a second pan is added for an additional $6.99 P&H charge which raises the total to $28.97. Each pan comes with an elevated lift & serve insert, a handy storage lid, and a recipe guide.
Sponsored Links
Copper Chef Perfect Loaf Pan Review
I think at this point consumers must be getting dizzy with an absolute flood of cookware hitting the airwaves. Consider products that have been advertised among the three major brands (Copper Chef, Red Copper, and Gotham Steel) such as Red Copper Pan, Red Copper Flipwich, Brooklyn Brownie Copper, Gotham Steel, Gotham Steel Pro, Gotham Steel Pro Cut, Gotham Steel Pasta Pot, Red Copper Better Pasta Pot, Copper Chef Square Pan, Copper Chef Knives… and that barely scratches the nonstick surface.
Now with Copper Chef Perfect Loaf Pan, we have the same nonstick surface that has been touted by Eric Theiss in all of the Copper Chef commercials in the form of a loaf pan with an elevated insert that helps you easily remove your food. Additionally, the insert is slightly raised from the bottom so that air can circulate below the food, and fat can accumulate in the bottom. The idea is not unlike that of the Brooklyn Brownie Copper, a brownie pan with a divider and detachable bottom that allows you to lift brownies from the bottom.
The idea of a loaf pan with an insert isn't new, but in the realm of these new nonstick pans, it is a newcomer. And when this nonstick surface is new or well-cared for, it will not fail to impress. Food should slide out quite easily, or maybe with a slight nudge from a plastic utensil.
How well Copper Chef Perfect Loaf Pan (and just about every other Copper Chef product) works will probably vary from person to person, based largely on how it is used. Fortunately, this particular Copper Chef product isn't advertised as being scratch proof, as some of its sibling products were. That was fine, until consumers realized that these surfaces do in fact scratch quite easily.
If you take some basic steps to ensure the longevity of Copper Chef Perfect Loaf Pan, you may find that it can live up to the advertising. Such steps include washing it only with warm soapy water. I prefer to use only a paper towel – not even a sponge – to clean these surfaces. Wipe it clean, then wipe it dry with a soft cloth, and store it somewhere with no other cookware residing on top of it. Use only plastic utensils, and don't expose it to heat beyond 550 degrees.
In the end, I think that Copper Chef Perfect Loaf Pan can please consumers, especially those who are impressed by the advertising and take steps to care for it.
Alternatives
A cursory search of nonstick loaf pans will yield a pretty good field of competing products. This two-pack by Farberware, for example, costs $13 and has an impressive 4.7 star rating among about a thousand consumers. It may pay to shop around.
Your Copper Chef Perfect Loaf Pan Reviews
What are your thoughts about Copper Chef Perfect Loaf Pan? Drop a comment below and a star rating above to let us know what you think about it.