Copper Chef XL is a nonstick pan that is bigger than the original Copper Chef. Read our Copper Chef XL review.
Sponsored Links
About Copper Chef XL
Copper Chef XL is a larger version of the original Copper Chef pan that blanketed airwaves in early 2016. The official product website is copperchefxl.com, with a registration date of October 2016. Below is a screen shot of the official website taken in November 2016.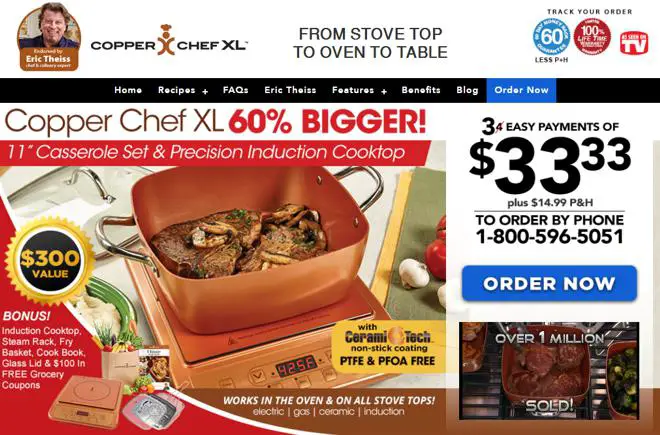 Claims & Features
11-inch square casserole pan
Stainless steel induction plate for even heat
Cerami-Tech nonstick surface
PTFE and PFOA free
Dishwasher safe
Heat proof up to 850 degrees
Cost
Copper Chef XL costs $99.99 + $14.99 P&H. You can break it into 3 payments or make a single payment. Your order includes the pan, cooktop, cookbook, steam rack, fry basket, glass lid, and $100 in grocery coupons.
Sponsored Links
The cooktop is available in black or copper colors.
Copper Chef XL Review
Copper Chef XL is the big brother of the original Copper Chef which has inundated airwaves via infomercials throughout 2016. Both the original and this larger version are touted for their non-stick surface and durable construction.
This "XL" version addresses a problem posed by some consumers that the original Copper Chef pan was too small.
There are, of course, some other issues with the original which are still not addressed in the XL version. Perhaps the primary complaint is that Copper Chef is not actually made of copper. It is copper-colored aluminum, which may not warrant the price tag.
As we noted with the original, the fry basket and steamer are nice additions to the set, but may scratch the surface, thus offsetting their value.
The original Copper Chef square pan is 9.5 inches, while the XL version is 11 inches. The XL is touted as "60% bigger" but they don't tell us to what it is being compared. With only a 1.5 inch difference between the original and XL, it certainly isn't 60% bigger than the original Copper Chef.
There have been some complaints that the ceramic-tech nonstick coating does not hold up with continued use. If you've had problems with this type of surface, you may want to consider other options.
If you've used the original Copper Chef and found it to suit your needs, the XL version may a moderate size upgrade. We're not convinced the small size improvement is worth the cost over the original, which can readily be found in stores.
Alternatives
You can still get the original Copper Chef which is about $25 less expensive than the XL version. Read our review of that item here. You may also be interested in the 1,300+ consumer reviews of the original Copper Chef on Amazon, where it holds a 4.3 star rating, although there is a strong minority of detractors.
Television Commercial
Your Copper Chef XL Reviews
Have you used Copper Chef XL? Give us your thoughts by leaving a comment below and a star rating above.