Copper Chopper is a straightforward chopping device that quickly slices, dices, and chops. Does it work as advertised? Here is our Copper Chopper review.
Sponsored Links
About Copper Chopper
Copper Chopper is a chopping device that features copper titanium blades and an easy serve container. The official website is buycopperchopper.com, with a registration date of April 2017. The screen capture below was taken of the product website in July 2017.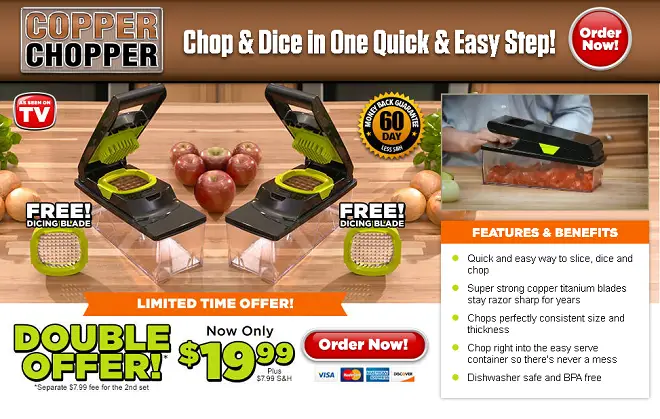 Claims & Features
Rapidly slice, dice, and chop
Durable copper titanium blades
Makes consistent cuts
Easy serve container catches chopped cuisine
Safe for dishwasher
Free of BPA
Cost
Copper Chopper costs $19.99 + $1 web service fee + $7.99 shipping for a total of $28.98. There is an optional double offer that adds a separate fee of $7.99 for a total of $36.97. Each unit comes with a bonus fine dicing copper blade. At the time of this writing, Copper Chopper is not available in stores.
Sponsored Links
Copper Chopper Review
Copper Chopper is a manual food chopper with a lid that is pressed down into food that has been placed on a grid of chopping blades. As food is chopped, it falls into the container below. If Copper Chopper looks familiar, you aren't mistaken. There have been numerous choppers sporting a similar design over the years, including older models like Vidalia Chop Wizard and newer products like Nicer Dicer Magic Cube.
To use Copper Chopper, you simply place your food onto the grid of blades, and press down with the lid. The blade area is rather small, so you may be be forced to trim down some food items so they will fit (you can see this in the commercial, too). Additionally, some items will cut more easily when they have been halved, such as tomatoes or apples. When you have properly-sized foods in place, chopping will usually be about as easy as demonstrated in the commercial. You may have some food that requires a bit of force, but the blades should be sharp enough to handle most jobs.
If you've used products like this before, you probably know what to expect. The materials won't be of the highest quality, but the blades should be sharp enough to cut through almost anything you attempt to dice. Perhaps the primary difference between this and other choppers is the use of copper, which has been hyped by As Seen on TV marketers over the past couple of years. Everyone seems to be on the bandwagon lately, so it's not surprising to see a "copper" version of one of these choppers. I doubt, however, that the inclusion of copper will make much of a difference over those that use stainless steel.
I'm not a fan of As Seen on TV double offers, because the fee for the second set is not refundable, and in most cases consumers wouldn't need a second unit anyway. That said, if you really want to try this product, you'll have to order it online because it's not available in stores as of this writing.
Although I'm confident that Copper Chopper will perform well with some foods, it's hard to recommend this over nearly identical options that can be found locally, without shipping delays or fees.
Alternatives
You can still find Vidalia Chop Wizard in stores. On Amazon, the Vidalia Chopper Pro has very high ratings among about 2,000 reviews, with a modest $20 price tag. You may want to peruse comments on that item, as it is very similar to Copper Chopper.
Your Copper Chopper Reviews
What are your thoughts about Copper Chopper? Drop a comment below and a star rating above to let us know what you think about it.