Copper Fit Balance Review: Insole for Stability and Posture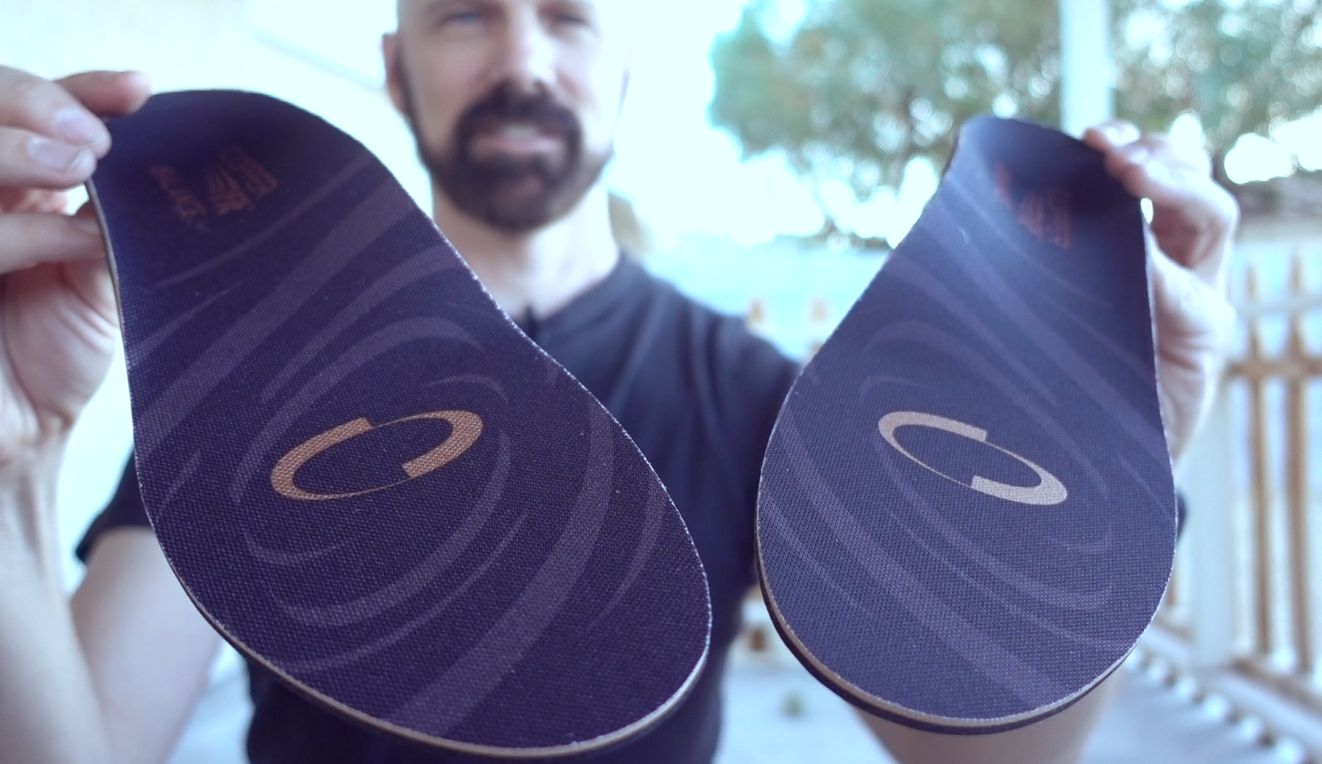 Copper Fit Balance is an orthotic insole that is designed to improve stability and balance. Read my first-hand Copper Fit Balance review.
Sponsored Links
About Copper Fit Balance
Copper Fit Balance is a shoe insert advertised as a way to help improve posture, while relieving foot pain. The official product website is copperfitbalance.com, which was registered in October 2016. The screen shot below was taken of the product website in January 2017.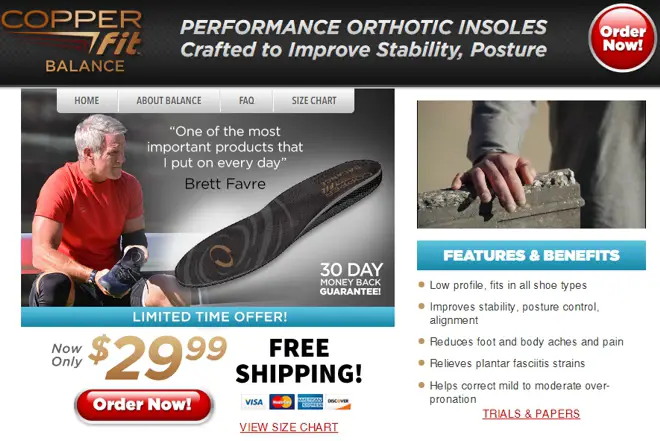 Claims & Features
Low profile
Fits in all types of shoes
Improves stability, posture, alignment
Helps reduce odors, body aches, and pain
Relieves plantar fasciitis
Cost
Copper Fit Balance costs $29.99 with free shipping. I found Copper Fit Balance at a local Dick's Sporting Goods here in Las Vegas for $25.
Copper Fit Balance Review
You have no doubt seen Copper Fit commercials in recent years, often fronted by NFL legend Brett Favre or Ashley Judd. Such offerings include Copper Fit Step Fx, Copper Fit Energy Socks, Copper Fit Pro Fit, Copper Fit Back Pro, Copper Fit compression garments, Copper Fit Socks, Copper Fit Wrist, and more.
Now with Copper Fit Balance, we have an insole that is said to promote balance, posture, and alignment.
As someone who has suffered from overpronation and used orthotic insoles in the past, I felt like I was a pretty good candidate to try this product out. Overpronation and underpronation (supination) is basically a condition where your foot doesn't hit the surface flush, but more on the side. This can lead to knee or foot pain, or other problems. Orthotic inserts are one common remedy to this problem.
Insoles can vary from inexpensive over the counter drug store brands, to custom-made insoles that can cost hundreds. Copper Fit Balance is priced around the middle of the OTC pack, and with free shipping, the price is actually not bad. With tax, the pair I bought ended up being about $27.
Sponsored Links
For my size 10.5, I had to buy the large size and cut it down so it would fit in my shoe. Fortunately, there are guides that show you where to cut it to the proper size. This only took me about a minute to do. Although Copper Fit Balance is said to work with any type of shoe, I was a disappointed that it didn't really work with my intended pair of Nike Airs. Those shoes don't have removable insoles, so adding another insole made them too tight and uncomfortable. Fortunately I had another pair of Nikes with removable insoles, which is where my Copper Fit Balance was used for this review.
Copper Fit first arrived in the wake of Tommie Copper's successful advertising campaign several years ago. Originally those initial Tommie Copper and Copper Fit products touted unproven health benefits of copper, but now they tend to only claim that copper fabric provides odor relief. How effective copper fabric is at reducing odors is also debatable, but that is a moot point in terms of how well Copper Fit Balance works to provide it relief for posture, balance, and foot pain.
Copper Fit Balance is well made, and strikes a pretty good balance regarding the hardness and softness of the insole itself. The raised sole provides comfort and support. I have taken several long walks with Copper Fit Balance in place, and found that my knee and foot don't hurt as they normally do without insoles.
The unfortunate reality of ordering an insole online is that everyone is different, and results will vary from person to person. What may be a godsend to one user could be completely ineffective to another. That's why I suggest looking for these locally so you can take a look at them in person before making your final purchase decision.
You may want to peruse "A Comprehensive Guide To Choosing The Best OTC Orthotics For You" which has useful information regarding how to pick a good pair of insoles. Keep in mind that over the counter insoles don't usually last more than about six months.
I'm not sure if Copper Fit Balance is actually as "revolutionary" as the advertising claims, but most consumers should find it to be a well-made and effective insole. My only disappointment was that it seemed to crowd my intended pair of shoes, but once I was able to use them in shoes with removable insoles, I was quite happy with the results.
Alternatives
There are numerous insoles that promote better balance and posture, such as New Balance and Superfeet. This $23 insole by Powerstep has an impressive 4.6 star rating among over 2,000 Amazon customers.
Video Review
Below is my full review of Copper Fit Balance.
Television Commercial
Your Copper Fit Balance Reviews
Have you used Copper Fit Balance? Let us know what you think by leaving a comment below and a star rating above.
Updated May 2017.