Copper Fit Replenish is a line of comfortable recovery sleepwear that helps you sleep better. Does it work as advertised? Here is our Copper Fit Replenish review.
Sponsored Links
About Copper Fit Replenish
Copper Fit Replenish is a line of copper infused sleepwear that encourages a better night's sleep and enhanced restoration. The official website is copperfitreplenish.com, with a registration date of February 2017. The screen capture below was taken of the product website in August 2017.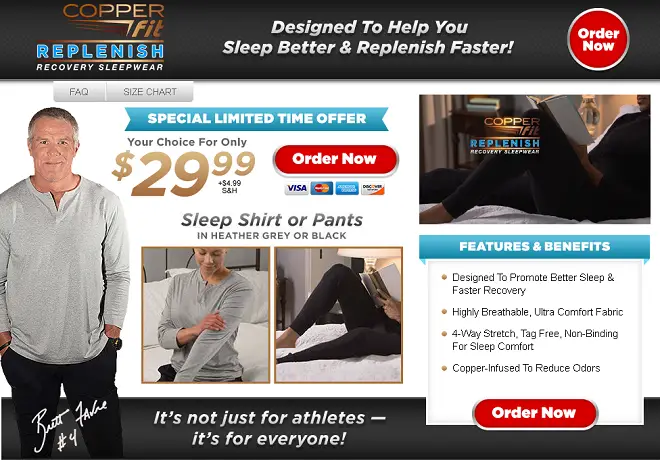 Claims & Features
Stimulates improved sleep and quicker rehabilitation
Manufactured from comfortable and breathable material
4-way stretch for 360 degree full-range mobility
Does not bind to skin or have collar tags
Infused with copper for odor reduction
Cost
A single Copper Fit Replenish sleep shirt or pair of pants costs $29.99 + $4.99 shipping for a total of $34.98. They for men or women in either Black or Heather Gray coloring. There are three size options: S/M, X/XL, and XXL for men. A sizing chart is posted on the product website. At the time of this writing, Copper Fit Replenish is not available in stores.
Copper Fit Replenish Review
If you've seen the advertising for Copper Fit Replenish, you may have wondered if this is nothing more than a fancy pair of pajamas. And while it certainly could be described that way, those who use it may beg to differ.
Sponsored Links
Copper Fit Replenish is made of a soft elastic material (modal/elastine) that is said to offer a "4-way stretch" so that your sleepwear doesn't become uncomfortable as you move during your sleep. The pants fit somewhat snug, not unlike soft boxer briefs, while the shirt has a slightly looser fit. There are men's and women's sizes, although I don't know if they are the same design. The website also shows a woman wearing a light blue version, although that option is not available at the moment.
Those who go into a product like this with realistic expectations are less likely to be disappointed. Wearing comfortable clothing while you sleep may not be a complete solution to sleep problems, but it is a small piece of the puzzle. I'm not one to wear pajamas, especially in warmer months, primarily because they feel too restrictive as I move in my sleep. In colder months, I do tend to wear more clothing, although nothing I've tried in the past is quite like Copper Fit Replenish. The soft, stretchy material will help keep you warm and comfortable without a feeling of being restricted.
$60 for a sleep outfit is probably going to price this product outside of the mainstream. Most "As Seen on TV" shoppers are more comfortable with the ubiquitous $19.95 price tag, so $60 could be a tough sell. Additionally, I'm of the opinion that "copper-infused" clothing is mostly advertising hype, and there is little evidence to support any discernible benefits of copper fabric.
That said, I'm a fan of the Copper Fit brand, and I don't say that about many brands in general. I've always found their products to be well made and comfortable. I'd probably drop the $60, just because of my positive past experiences with the brand, while keeping in mind that it can only be a part of a larger puzzle in solving my sleep problems. Not to mention that, although the design seems familiar, there really isn't anything quite like it. You'd be hard pressed to find men's pajamas that are soft, form-fitting, and stretchy. Perhaps you could use some longer boxer briefs to substitute as bottoms, but I've seen few products exactly like this.
I'll be very interested to see how consumers respond to this.
Alternatives
When you look for men's pajama pants, they are almost always loose-fitting, which sets Copper Fit Replenish apart from the vast majority of competitors. Perhaps the closest you'll find (especially for women) would be soft active pants, which are quite similar to the pants offered here.
Below you can see my video review of another Copper Fit product called Copper Fit Balance.
Your Copper Fit Replenish Reviews
What are your thoughts about Copper Fit Replenish? Drop a comment below and a star rating above to let us know what you think about it.