Couch Coat is a reversible quilted couch cover that restores and protects your couch. Read our Couch Coat review.
Sponsored Links
About Couch Coat
Couch Coat is a quilted couch cover that protects your couch from dirt and spills, while providing your furniture an attractive appearance.
The official product website is couchcoat.com, which was registered in January 2016. The screen capture below shows the official website as it appeared in July 2016.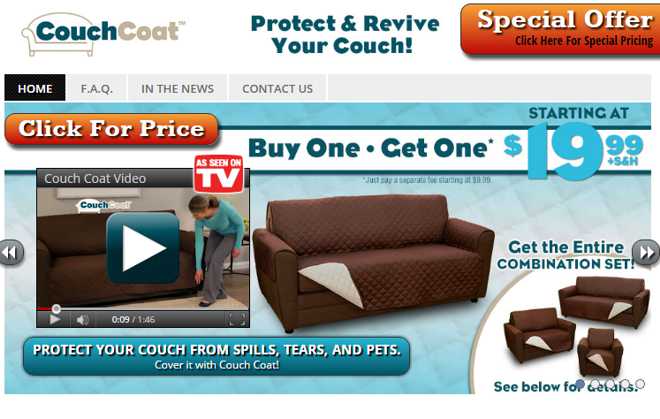 Claims & Features
Protects and revives your couch
Doesn't move while in use
Reversible quilted design offers chestnut brown and cream colors
Protects from spills and pets
Machine washable
Cost
A standard Couch Coat costs $19.99 + $7.99 shipping. You can upgrade this to a "Deluxe" double-quilted fabric design for another $9.99. This brings your order to $27.98 for a standard unit, or $37.97 for a Deluxe model. You can double the standard order for $9.99 or the deluxe order for $19.98. This would total $37.97 for a double regular order, or $57.95 for a two deluxe models.
There is a Couch Coat Combination Set which includes three covers for couch, love seat, and chair. This costs $69.98 + $9.99 shipping for the standard, or you can add another $29.97 for the Deluxe. This brings your order to $79.97 for the set, or $109.94 for the Deluxe set. You can also double either of these for $24.99 or $34.99 respectively. This means you would get two standard sets for  $104.96 or two deluxe sets for $144.93.
Sponsored Links
Couch Coat Review
Couch Coat is a quilted, reversible couch cover that protects your couch from spills, stains, and dirt, while restoring it to an attractive appearance. To use Couch Coat, you simply lay it onto your existing couch, up to 92 inches wide. The design is largely universal, and should fit most standard sofas.
The reversible design offers dark/light color options (chestnut brown and cream), which should match the color of most furniture. Once in place, Couch Coat can function as a way to protect your newer couch, or to restore the look of an aging model. Installation takes only a minute to lay it in place. If you're a pet owner, you'll find that cleaning this cover in the washing machine is far easier than vacuuming hair off of your couch.
Although the 42-second mark of the commercial below shows Couch Coat being used on a leather couch, we've found that couch covers are sometimes less effective on leather furniture, as there is a tendency for material to slip on the smooth surface. This is largely dependent on your specific model. Couch Coat may not work with some sectional designs.
Couch Coat is brought to you by Telebrands, one of the major players in the As Seen on TV industry. Some recent products by this company include Smart Swab, Atomic Beam, and Pocket Hose. The company tends to get mixed reviews and as of this writing holds a C- rating with the Better Business Bureau.
On its own merits, we feel that Couch Coat will be rated well among those who purchase it. It features an aesthetically pleasing design that should fit most couches. Overall, we feel that Couch Coat is a worthy competitor in the couch cover field, although its price is on the high end of the cost spectrum.
Alternatives
The idea of a reversible quilted couch cover is not new. You can find a wide variety of these couch covers, which range anywhere from $19 to $80.
A current Amazon #1 best seller in this category is the Sofa Shield, which looks and performs similarly to Couch Coat, and also comes in a chocolate/beige reversible design. That item sells for about $30.
Television Commercial
Your Couch Coat Reviews
If you've used Couch Coat, tell us what you think by leaving a comment below and a star rating above.