Crank Chop is a small hand-operated food processor. Does it really work? Here is my Crank Chop review.
Sponsored Links
About Crank Chop
Crank Chop is a plastic container that uses stainless steel blades that spin when a nylon cord within the lid is pulled. The official product website is crankchop.com, which was registered in May 2014. The screenshot below shows how the product website looked in September 2017.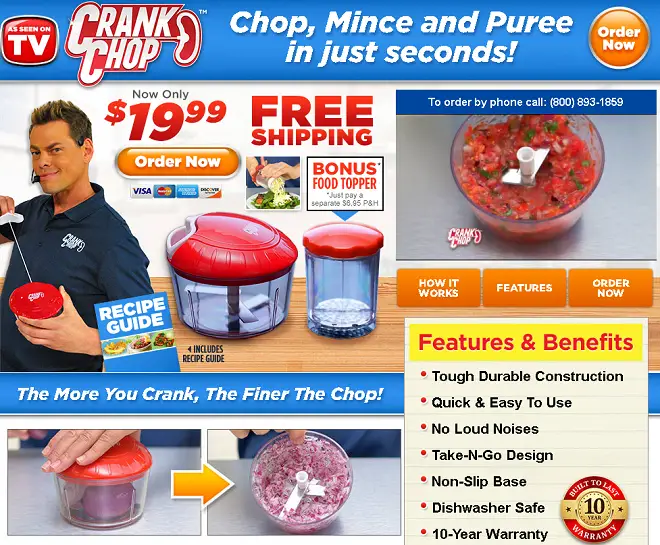 Claims & Features
Sturdy manufacturing
Fast and user-friendly
Not noisy
Detachable stainless steel blades
Base is nonslip
Safe for dishwasher
Ergonomic handle
10 year warranty
Cost
Crank Chop costs $19.99 + $6.95 P&H for a total of $26.94. There is an optional deluxe offer that includes extra high quality Japanese blades for $29.99 + $6.95 P&H for a total of $36.94. Each unit comes with a Food Topper and a recipe guide. I found Crank Chop at a local Fry's for $20.
Crank Chop Review
Although Crank Chop isn't a new product, it has recently re-emerged in an advertising campaign in 2017, so I thought it would be a good idea to give it a closer look. I picked up Crank Chop at our local Fry's here in Las Vegas for $20 in September 2017.
Using Crank Chop is pretty straightforward. You simply add your ingredients, secure the lid, and pull the cord repeatedly until you achieve your desired results. If you've seen the commercial (which is part train-wreck, part humorous), you get a pretty good idea of how it works. But as someone who owns this and has used it, I'll give you a little reality as compared to the idealized advertising.
I tested out quite a few foods for my video review of Crank Chop that you can see below. I chopped tomatoes, celery, strawberries & blueberries, greens, cheese, and even ice. I'm pleased to report that Crank Chop was able to handle everything pretty well. The tomatoes were probably my least favorite, perhaps because there was so much juice floating around the bottom. The ice was crushed, but not uniformly. Cheese turned out more like crumbled cheese than shredded, although I found that to be completely acceptable. The greens were probably too chopped for my liking. It may take some experimenting with different foods to achieve the desired consistency. Something like ice may take 10 pulls, whereas greens may only take 3.
Sponsored Links
One point worth mentioning is that most food will need to be cut down to size to fit into the container. The instructions state that onions or potatoes need to be quartered in order to fit.
The pull handle is an interesting idea, and it felt like my dad's old pull-start lawnmower I used as a kid. I learned that if you don't pull the handle all the way out, it may not retract properly. It takes a few minutes to get the hang of it. When the handle retracts, it makes a whirring sound as the cord is pulled back into the lid.
Cleaning the bowl is similar to any other plastic bowl. I found the cheese to leave the most residue, and required me to use a scrub brush to clean it properly. You can put the blades and the bowl in a dishwasher, but the lid can only be wiped with a sponge. I believe this is because water can get inside the lid and wreak havoc on the cord assembly.
Not everyone will feel that Crank Chop is a necessary gadget, but I can see how this would have a place in some kitchens. I saw a YouTube video of an elderly lady using this, and she marveled that she no longer had to chop lettuce. There are those who will love this, and others who will think it doesn't solve any problems. I wish the bowl were bigger, but other than that I have few complaints.
I'll keep using it to see how long it lasts, because I worry the cord may not hold up over time. I'll update this space if anything changes.
Alternatives
There are numerous pull choppers like Crank Chop, such as this $15 model with about 1500 consumer ratings. Or how about this $9 model that holds a 4.6 star rating? For a slightly different take on the concept, there are other manual choppers, like this $13 product that has also solid reviews. Crank Chop definitely isn't the only game in town.
Video Review
Below is my full video review and demonstration of Crank Chop.
Television Commercial
Your Crank Chop Reviews
Have you used Crank Chop or something like it? Leave a comment below and a star rating above to let us know your thoughts.