Crazy Cakes is a device that allows you to make cakes with fun-filled surprises. Does it actually work? Read our Crazy Cakes review.
Sponsored Links
About Crazy Cakes
Crazy Cakes allows you to create unique cakes filled with fruit or candy. The official product website is buycrazycakes.com, which was registered in February 2016. The screen shot below was taken of the product website in December 2016.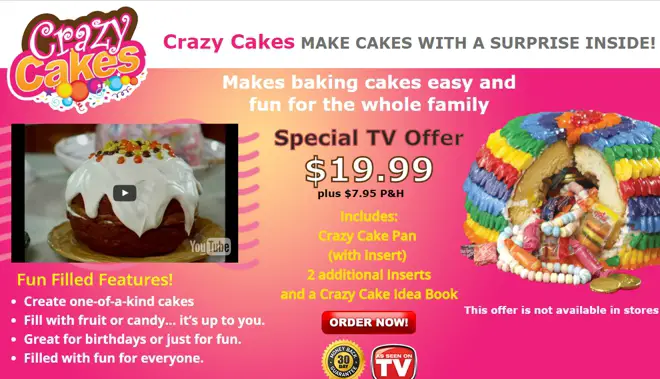 Claims & Features
Create unique cakes
Fill it with fruit or candy
Ideal for birthdays or everyday use
Cost
You can get Crazy Cakes for $19.99 plus $7.95 P&H. This includes the Crazy Cakes pan plus a heart insert, star insert, and idea book.
As of this writing, we haven't seen Crazy Cakes in stores.
Crazy Cakes Review
Crazy Cakes is a cake pan with an insert that hollows out the center, where you can place such things as candy, ice cream, or fruit. The idea behind the product is rather simple, and DIY types have been creating cakes like this for years.
Sponsored Links
To use Crazy Cakes, you simply fill the pan with cake batter, then attach the included insert and bake. The insert creates a pocket that you can fill later. When the cake is done, you remove the insert and fill the space with ice cream, fruit, or candy. You then put a plate over the cake and filled pocket, flip over, and decorate.
Although the design of Crazy Cakes seems straightforward, using the product may be a bit more complex. You'll first need to figure out exactly how much cake batter to use in order for it to rise and align with the insert. Too little, and the insert won't create a pocket; too much, and batter could spill into the insert.
It doesn't appear that Crazy Cakes is nonstick, so you'll need to account for that in the preparation and cleanup process – for the pan and the insert. Additionally, you'll probably want to bake and consume the cake on the same day. Otherwise, depending on what you place in the pocket, it could prove to difficult to cut if it's placed in the fridge.
We highly recommend baking a test cake before committing yourself to making a Crazy Cake for a party, as there is a bit of a learning curve involved.
Those who are proficient at making cakes may tell you that it might be easier to simply bake a cake and cut a hole in the bottom, rather than using an insert to create a pocket.
Overall, the jury is still out on Crazy Cakes, and we are somewhat on the fence. Those who get it to work will be delighted by it, but we expect a nearly equal number of complaints by people who may find the process more difficult than it's worth.
Alternatives
You can find other hollow cake pans which offer the same general functionality as Crazy Cakes. Nordic Ware offers a "Pinata Cake Pan" which looks quite similar to Crazy Cakes. That $20 item has a respectable 3.6 star rating among consumers, although some users of that product have expressed some of the same concerns we list above.
Television Commercial
Your Crazy Cakes Reviews
Have you used Crazy Cakes? Let us know what you think by leaving a comment below and a star rating above.