Crocodile Wrench is advertised as a one-size fits all wrench. Read our Crocodile Wrench review plus additional product information.
Sponsored Links
About Crocodile Wrench
Note that as of July 2016, the official website for this product is no longer online. It would appear that this item is no longer available. You can still see our original review below, which was accurate as of May 2016.
Crocodile Wrench is a wrench that can fit any size and work on rusted, painted, and stripped nuts or bolts. The product website is buycrocodile.com, which was registered in May 2016. The screenshot below shows the official website in May 2016.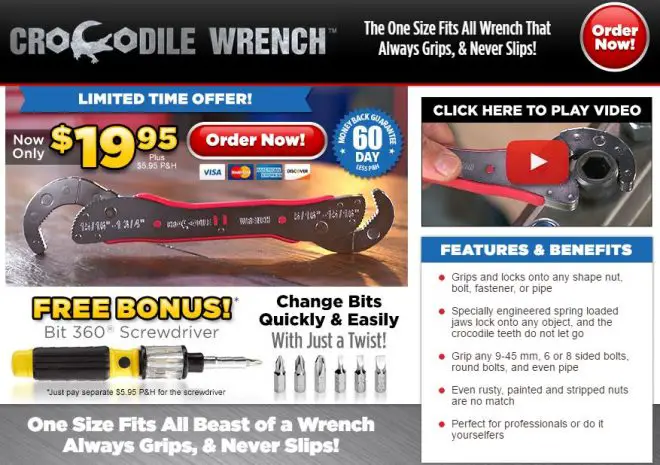 Claims and Features
Grips any shape, nut, or bolt
Spring-loaded jaws
Fits any 9 – 45mm, 6 or 8 sided bolts.
Can handle pipes, rusty or painted bolts/nuts
Cost
You can purchase Crocodile Wrench for $19.95 + $5.95 shipping. This includes a Bit 360 screwdriver (review) with each purchase.
As of this writing, we haven't seen Crocodile Wrench in stores. If you have, let us know in the comments below.
Crocodile Wrench Review
There are two primary features of the Crocodile Wrench that are worth discussing: It's ability to quickly adjust to a wide variety of sizes, and its usefulness in removing difficult fasteners.
Sponsored Links
At first glance, Crocodile Wrench seems to be a standard 2-sided wrench, but what makes it different is that it sports a spring-loaded design. This allows you to move from size to size without having to manually re-size or re-adjust the tool. It scales with the job on the fly. The other advertised benefit is that of removing difficult screws or other fasteners.
Despite a somewhat gimmicky television commercial, Crocodile Wrench is pretty effective at handling tasks in the manner advertised. You can move from size to size rather quickly, and it does a pretty good job of grabbing onto nuts or bolts, even those that are stripped or stuck. There are two jaw sizes, one on each end of the tool.
It may not replace all of the tools in your toolbox, but it is a pretty useful item to have on hand, especially if you don't feel like digging around for a specific sized wrench.
There will be those who love the convenience of Crocodile Wrench, and purists who don't feel it is a suitable replacement for standard tools. We feel that customer ratings will eventually fall around the 3.7 star range once consumer ratings begin to show up online.
There have been other products advertised over the years which have also promised to alleviate the problem of removing difficult screws. SpeedOut was heavily advertised back in 2014, while Gator Grip has been a mainstay in this category for years.
Regarding its spring-loaded jaws, there are other tools out there that do this as well. Take this 2 Piece Folding Flip and Grip Ratcheting Wrench, for example. Crocodile Wrench is also essentially a two-piece set, although it sports different sizes on each end of the same tool.
Interestingly, there was a "Crocodile Wrench" advertised in magazines 100 years ago. The ad below shows "The Crocodile Wrench" in a 1914 magazine. Although it is not the same as the current Crocodile Wrench, there is some visual similarity between that product and this one.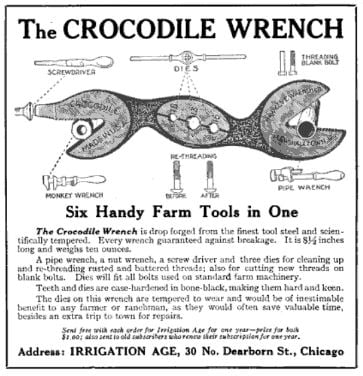 Your Crocodile Wrench Reviews
Have you used Crocodile Wrench? Let us know what you think by leaving a comment below and a star rating above.