Crumby Vacuum is a 12,000 RPM handheld mini vacuum. Does it work? Read our Crumby Vacuum review.
Sponsored Links
About Crumby Vacuum
Crumby Vacuum is a powerful mini vacuum designed for smaller messes and helps teach kids how to clean. The product website is trycrumbyvac.com, which was registered in March 2016. The screen capture below shows the official website in March 2016.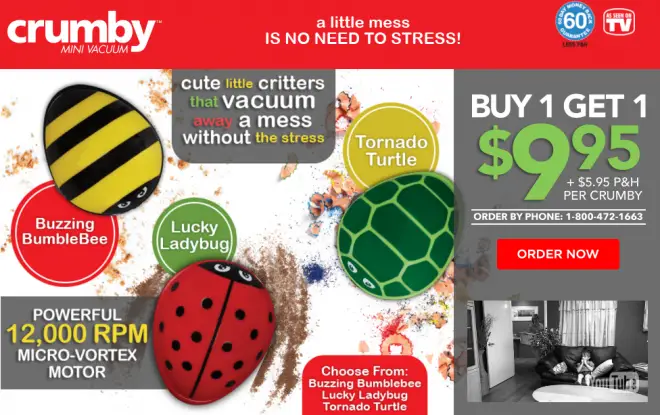 What They Claim
Lightweight
Fits comfortably in your hand
Safe for smaller hands
Great for teaching kids how to clean
12,000 RPM micro-vortex motor
Uses two AA batteries
Crumby Vacuum Cost
$9.95 + $5.95 P&H per vacuum, can choose whether or not to receive buy one get one free offer (plus an additional $5.95 per vacuum). You can also find Crumby at online retailers such as Target.com or Ginny's for about $10-$15. I bought the Emoji version at a Fry's for $10.
Crumby Vacuum Review
Crumby is a mini hand-held vacuum that is designed for small messes, and with a cute character design which increases appeal for children. As the name states, it is good for very small messes, such as crumbs or small areas of dust. The idea isn't to replace a full-sized vacuum, or even a larger hand-vac, but for the smallest of messes. It has a 12,000 RPM motor and is powered by two AA batteries, which aren't included.
Sponsored Links
As you can see in the video below, I found it to work for crumbs such as crackers, chips, coffee, sugar, powder, and even crumbs from a Taco Bell run. I also found it to be good for computer keyboards, in addition to small crumb spills in the kitchen or office. The cute designs (ladybug, bumblebee, and turtle – and now a variety of Emojis) mean you can display Crumby when it is not in use. A few users have reported that the device tends to run warm with extended use, although most jobs Crumby is cut out for would not require enough time to overheat.
Cleaning it is easy, as the back and filter pop out easily and can be run under water. You'll also want to be careful not to try to vacuum up items over about a quarter inch, or they can clog the opening and potentially affect the motor.
Crumby has been around for several years, although the website and advertising seem to indicate it is a newer product. I believe the Emoji version only came out in 2017, when I first spotted it at a local Fry's here in Las Vegas.
It is a nice gift idea that is pleasant to display while having a useful function. It won't replace larger vacs, but it isn't trying to do that. Crumby isn't the only cute min-vac in town. You may be interested in a line of tabletop vacs by Wrapables, which are priced and perform similarly.
Television Commercial
Your Crumby Vacuum Reviews
Have you used Crumby Vacuum? Give us your review by leaving a comment below and a star rating above.
Updated October 2017.