Dap XHose Pro is light-weight expandable garden hose which has been advertised on television. Here is our Dap XHose Review plus key product information.
Sponsored Links
XHose Pro
Several different expandable hoses have been competing for As Seen on TV consumer dollars in recent years, including heavily advertised options such as Flex-Able Hose and Pocket Hose. The Dap XHose Pro seems at first glance to solve some of the problems associated with its competition, namely fittings that break easily. So how does Dap XHose Pro measure up?
We put it to the test and our results were disappointing. Even though the pro model of the Xhose features "solid brass fittings," we still had problems with leakages and breakage. Two two products that we tested experienced many of the same problems that the other expandable hoses have, even with the brass fittings. In reading other internet reviews, we found that other reviewers had similar experiences.
The Dap Xhose Pro "About" page describes the product in the following manner:
"The original expandable garden hose, XHOSE by DAP®, is everything your typical garden hose isn't – it's lightweight, compact, and expandable, with a powerful spray and a kink-free design. Now the DAP® XHOSE Pro is better than ever, with solid brass fittings, a wider diameter and more powerful spray, and crafted from even stronger materials. Plus, it expands and contracts up to twice its length for easy maneuverability and convenient storage. The DAP® XHOSE Pro is like no hose in the world, making it easier than ever to work in the yard, wash your car, and more – you can even take it on the go, in your truck, boat, or RV."
Note: the Xhose Pro appears to have been replaced by an even newer model: the XHose Pro Extreme. You can read a review for that version here. The XHose Pro can still be found in some stores, however.
Sponsored Links
Official Website
xhose.com
Registered December 30, 1999
Claims/Features
Tagline: "The original expanding hose is better than ever!"
Automatically expands and contracts
Full 3/4″ inside hose diameter for a more powerful spray
Durable material is stronger than ever
Lightweight hose with solid brass fittings
Contracts in seconds when the water is turned off
Will not kink or tangle
Good for autos, gardening, and cleaning
Available in stores
Cost
$29.95 plus $8.95 s/h – For every one 25′ XHOSE Pro you order, you will receive two! (special offer of 25′ XHOSE Pro, for just $29.95, plus $8.95 shipping and handling. )
$49.95 plus $9.95 s/h – For every one 50′ XHOSE Pro you order, you will receive two! (special offer of 50′ XHOSE Pro, for just $49.95, plus $9.95 shipping and handling.)
$69.95 plus $10.95 s/h – For every one 75′ XHOSE Pro you order, you will receive two! (special offer of 75′ XHOSE Pro, for just $69.95, plus $10.95 shipping and handling.)
Screenshots
Below are screen shots of the official website from December 2013 and April 2015. Note that the "250 PSI" reference was removed, and the website as of 2016 now primarily touts XHose Pro Extreme, which you can find reviewed here.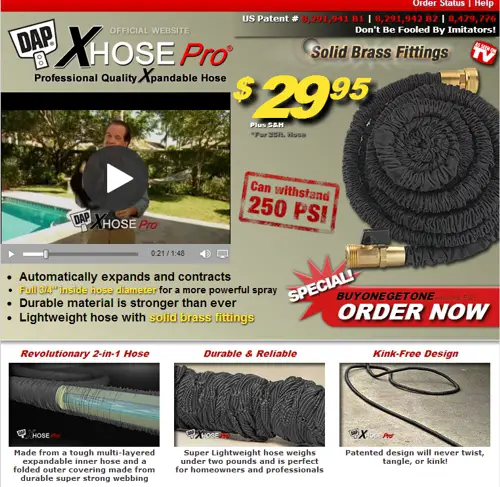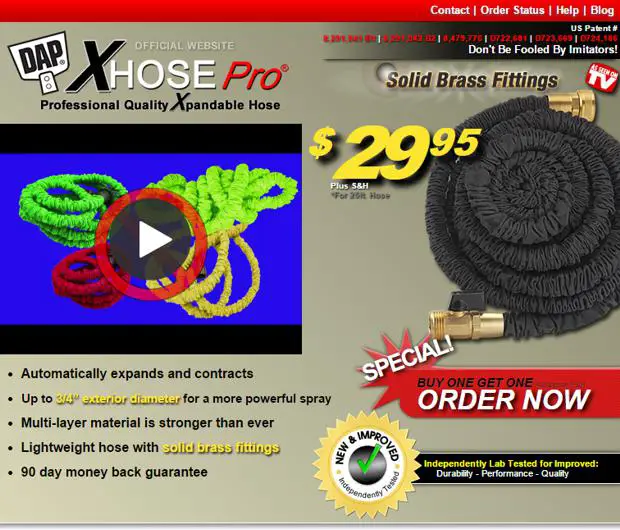 Television Commercial
Below is a television commercial for Dap XHose Pro:
Your Dap XHose Pro Reviews
Have you tried DAP XHOSE Pro? Please give us your review in the comments below and give it a star rating above.
First published January 2014
Modified April 4, 2015