Dependalite Review: Battery-Saving Flashlight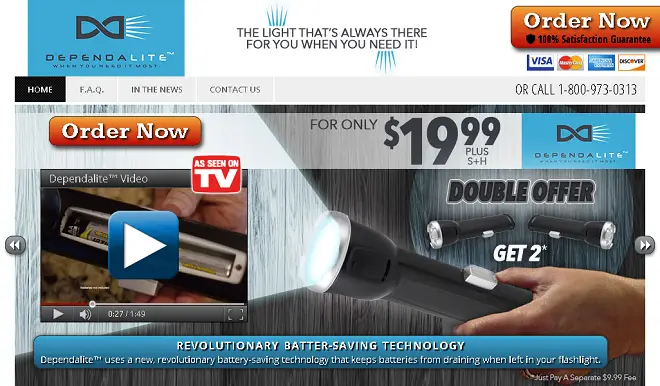 Dependalite is a dependable flashlight with new battery-saving technology. Does it really work? Here is my Dependalite review.
Sponsored Links
About Dependalite
Dependalite is a LED flashlight with an innovative off switch that disengages the batteries so that they do not drain or corrode. The official product website is buydependalite.com, which was registered in October 2017. The screenshot below shows how the product website looked in November 2017. I have also seen ads for dependalite.com, which was registered a year earlier.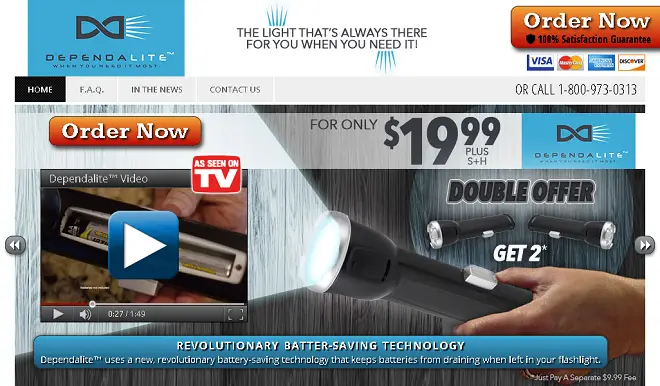 Claims & Features
Off switch disconnects batteries and prevents them from draining
LEDs are twice as bright as the light on a cell phone
Save money on batteries
Prevents batteries from corroding and exploding
Cost
Dependalite costs $19.99 + $7.99 shipping for a total of $27.98. There is an optional double offer for a separate fee of $9.99 which would bring the total to $37.97.
Dependalite Review
I have definitely seen my share of As Seen on TV lights, flashlights, and other lighted products (see the embedded YouTube playlist below) over the years. Now with Dependalite, we have what appears to be an ordinary flashlight, but with a special battery-saving feature that helps prevent batteries from going dead while being stored.
Unlike so many recent "tactical" flashlights that have advertised in recent years, Dependalite isn't focused on its brightness, but its ability to be ready when you need it. I've always thought some of the advertising for these tactical flashlights was over-hyped, and many of those do tend to drain batteries quickly. For those of us who just need a working dependable flashlight on occasion, Dependalite could be a compelling option. You won't get hundreds of lumens or thousands of LUX, but you'll get a working flashlight, even if it has sat unused in a drawer for months.
Sponsored Links
The secret to Dependalite is a special battery compartment that is directly connected to the on/off switch. When you turn the flashlight off, the batteries are actually disconnected from the terminals, which will prevent them from draining over time. Thus, turning the flashlight off is akin to physically removing the batteries from the device. Other than that feature, which certainly can't be overlooked, it is no different than a standard flashlight.
I don't recommend adding the double offer, because that extra $10 fee is nonrefundable. If you get the double offer and decide to return the product, you'll still be out $17.98 in shipping, which could have bought you another flashlight altogether!
Is the battery-saving feature compelling enough to sway consumers to drop almost $30 for an otherwise standard flashlight? That remains to be seen.
Alternatives
There are other flashlights out there that focus on dependability over brightness. Take this $14 rechargeable failsafe flashlight, for example, which sports pretty solid consumer ratings. There is also something like this Always Ready Emergency Flashlight that runs about $12 and is stored in a wall outlet. It may pay to shop around.
Below is a playlist of several similar As Seen on TV products I've reviewed on YouTube.
Television Commercial
Your Dependalite Reviews
Have you used Dependalite or something like it? Leave a comment below and a star rating above to let us know your thoughts.