Destiny Candle combines candles, aroma therapy, and invigorating massage oils into a new type of product.
Sponsored Links
Destiny Candle is a unique product in which its melted "wax" is not wasted, but instead becomes massage oil that can be used on your body. Additionally, inside the candle is an "intention crystal" which can be worn as a bracelet.
Reviews of Destiny Candle have been generally positive, with an almost unanimous agreement that the smell alone is worth the price.
There are two sizes of candles, each with seven scents. The large scent also contains a crystal intention. The large candle has:
Love/Sex
Weight Loss
Wealth
Stress Relief
Beauty
Good Luck
Energy/Uplift
The small Destiny Candle scents include:
Sponsored Links
Love
Wellness
Wealth
De-Stress
Beauty
Luck
Energy
Official Website
destinycandle.com
Registered April 29, 2013
Contact
Phone: (877) 372-7630
Hours: Monday – Friday 8AM – 8PM (EST) and 5AM – 5PM (PST).
Email: [email protected]
Claims/Features
7 Stimulating aromas
Invigorating massage oils
Tagline: "Light up your destiny."
All natural ingredients
Not available in stores
Cost
Large Destiny Candle w/Intention Crystal: $29.99 + $6.95 S&P = $36.94
Small Destiny Candle (no Intention Crystal) : $10.99 + $2.95 S&P = $13.94
Screenshot
This is a screen capture of the Destiny Candle website, taken in December 2013: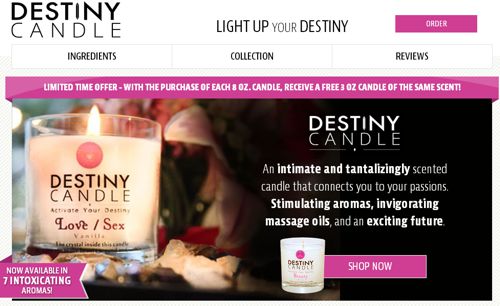 Television Commercial
This is a television commercial for Destiny Candle:
Destiny Candle Reviews
Have you tried Destiny Candle? Please give us your review in the comments below and give it a star rating above.