Doctor's Ear Wax Cleaner is a battery operated medical device for cleaning wax out of the ears. Does it work as advertised? Here is our Doctor's Ear Wax Cleaner review.
Sponsored Links
About Doctor's Ear Wax Cleaner
Doctor's Ear Wax Cleaner is an ear wax removal instrument that features a slowly revolving silicone tip, a protective ear guard, and an LED light. The official website is getearwaxcleaner.com, with a registration date of June 2017. The screen capture below was taken of the product website in August 2017.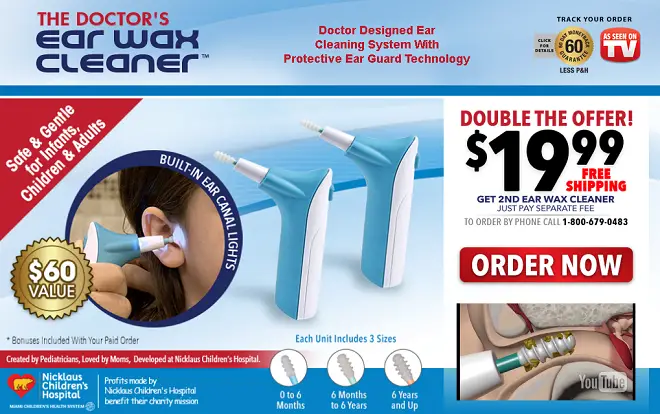 Claims & Features
Safe for all ages
Safely clear away ear wax with the slowly rotating silicone tip
Comes with replacement tips
Disk ear guard protects ear canal from damage
3 different sized tips for various ages
Profits donated to charity
Reusable tips can be cleaned with soap and water
LED ear canal light
Batteries required
Cost
Doctor's Ear Wax Cleaner costs $19.99. There is an optional double offer for a separate fee of $9.99 which would bring the total to $29.98. Shipping is free on both offers. Each unit comes with 3 different sizes of interchangeable silicone tips (blue safety tip for ages 0-6 months, green safety tip for ages 6 months to 6 years, and orange safety tip for 6 years and up).
Sponsored Links
Doctor's Ear Wax Cleaner Review
When I first saw the commercial for Doctor's Ear Wax Cleaner, I was immediately reminded of ads for Wax Vac, which were so silly that they ended up being mocked on television and online. While that product supposedly used suction to remove ear wax, this item uses a motorized rotating tip. It's almost a cross between Wax Vac and Smart Swab, which was another wax remover with a spiral tip, but that wasn't electric.
To use Doctor's Ear Wax Cleaner, you simply place the appropriate tip into your ear and press the button. Ideally, the spiral tip will grab onto any wax in its path, which you can then easily remove. The spiral tip is designed in a way so that it doesn't reach too far into the ear canal, which is a concern for people who use traditional swabs to remove wax. Pushing a regular swab too far into the ear canal can cause damage to the eardrum.
There have been spiral ear wax removers in the past which were met with a lukewarm response. The battery-powered spinning action may not create much of an advantage over the manual method of simply hand-turning a similar spiral tip. It's one of those items that people will probably like or hate, with few opinions in the middle. Every ear is a little different, and what works for one person may be complete ineffective for the next.
In fact, some doctors will tell you that inserting an object into your ear may actually push the wax deeper, which makes it more difficult to remove in the future. According to the American Academy of Otolaryngology, Head and Neck Surgery, ears usually "self-clean" and should only be cleaned manually if there are symptoms such as earache, hearing loss, tinnitus, itching, or coughing. They also indicate, "…do not insert anything into the ear canal" and to treat wax by "placing a few drops of mineral oil, baby oil, glycerin, or commercial drops in the ear. Detergent drops such as hydrogen peroxide or carbamide peroxide (available in most pharmacies) may also aid in the removal of wax."
This is a relatively new item, with a website registration date of June 2017, which tells me it is likely being test marketed. If anything changes about the product, I'll update this space.
Alternatives
As I mentioned earlier, previous As Seen on TV ear wax removers such as Wax Vac and Smart Swab were both raked over the coals by consumers who claimed they didn't work. Most doctors will use a curette like this to remove wax, while ear wax softeners like Debrox Drops may not be as pleasant, but they tend to work pretty well. This Elephant Ear Washer Bottle System is quite highly rated by thousands of consumers.
Television Commercial
Your Doctor's Ear Wax Cleaner Reviews
What are your thoughts about Doctor's Ear Wax Cleaner? Drop a comment below and a star rating above to let us know what you think about it.