Door Angel is an automatic, self-closing door system that easily installs in minutes. Does it work? Read our Door Angel review.
Sponsored Links
About Door Angel
Door Angel is an automatic door closer. The product website is doorangel.com, which was registered in November 2016. The screen shot below shows how the product website appeared in December 2016.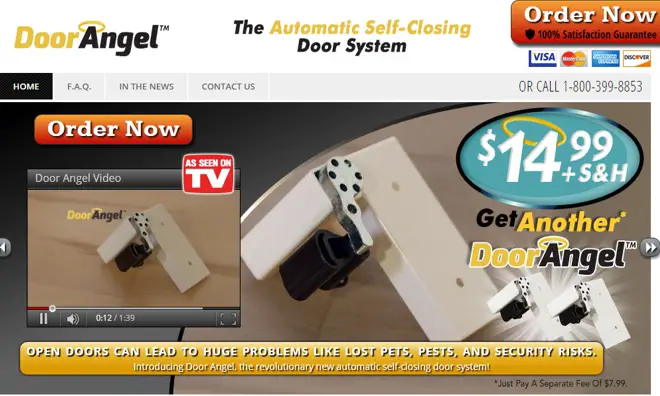 Sponsored Links
Claims & Features
Automatic self-closing door system
Easy to install: Only 3 screws
Universal design
Discreet
Can be used on any hinged door
Cost
You can get Door Angel for $14.99 + $7.99 shipping. You have the option of adding a second unit for another $7.99 fee. That brings your total to $22.98 for one, or $30.97 for two.
As of this writing, Door Angel isn't sold in stores.
Door Angel Review
Door Angel is an As Seen on TV automatic door closer. The website describes it as a "revolutionary new automatic self-closing door system."
The unit includes two parts which are attached to the top of a hinged door. One part is attached to the door, while the other is attached to the frame. When a door is opened, the two units apply pressure, which will automatically close it once you release it from your grasp.
It is a simple design, although probably not as revolutionary as the advertising may want us to believe – as automatic door closers have existed for decades.
That said, the design of Door Angel appears to be universal enough to fit most doors. Keep in mind that some doors do not latch as easily as others, and difficult to close doors may still not complete close, even with Door Angel installed. How well a door completely closes will vary based on a number of factors, including the weight of the door, its alignment, and how smoothly it latches with minimal pressure.
Overall, we think Door Angel should work about as advertised. Its simple to install design could make this a good fit for the non-DIY types.
Alternatives
There is no shortage of automatic door closers to be found, with a wide variety of designs and prices. An Amazon best seller in this category is the $13 Prime-Line Safety Spring Door Closer, which has a 4 star rating among about 500 consumer reviews.
Your Door Angel Reviews
If you've used Door Angel, tell us what you thought by leaving a comment below and a star rating above.