Dust Daddy is a vacuum adapter for dusting that uses dozens of tiny suction tubes. Does it work as advertised? Here is our Dust Daddy review.
Sponsored Links
About Dust Daddy
Dust Daddy is a dusting attachment that works with any vacuum cleaner. It features dozens of individual suction tubes that are small and flexible. The official website is buydustdaddy.com, with a registration date of December 2016. The screen capture below was taken of the product website in May 2017.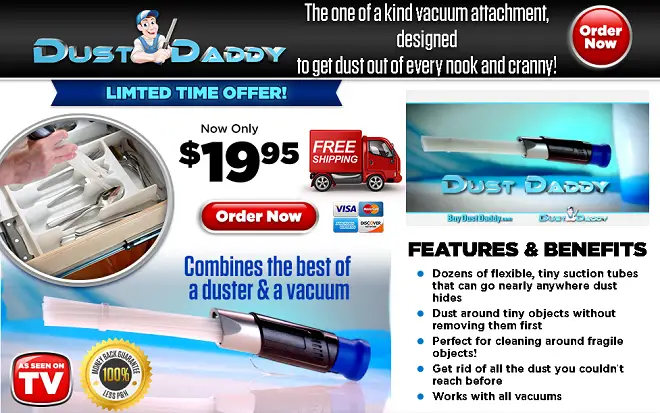 Claims & Features
Dozens of miniature flexible suction tubes
Dust around small objects without moving them
Ideal for dusting around fragile objects
Reaches dust you can't normally reach
Universal adapter compatible with all vacuums
Cost
Dust Daddy costs $19.95. P&H is free. You can find Dust Daddy in stores for about $20.
Dust Daddy Review
When I first saw the name "Dust Daddy" I was under the impression that this may be yet another kitchen cleaner from the makers of the popular Scrub Daddy sponge. That thought was wrong, however, as this is actually a new-fangled vacuum attachment.
While you've almost certainly seen vacuum crevice attachments of various sizes and shapes, Dust Daddy offers a very different take on the standard crevice brush, where the "bristles" also double as suction tubes. Rather than using bristles to prevent small items from being sucked into your vacuum, Dust Daddy uses small suction tubes that serve as both bristles to prevent taking in small objects as well as mini vacuum tubes.
After using Dust Daddy a few times, it started to feel somewhat gimmicky to me. I do agree with the advertising that it can pick up dust without picking up other small objects, but that isn't a situation most people encounter enough to warrant buying an entirely new attachment. In most cases, I found that a standard crevice or brush attachment worked as well or better.
For crevices in car seats, Dust Daddy worked – but so did my crevice attachment. The same could be said for vents and almost every other test I've tried except one in which I had small objects in a silverware holder. In that one instance, Dust Daddy did what a crevice tool could not, which was pick up coffee grounds without picking up the small objects.
Sponsored Links
You may find it interesting to note that this is the second device of its kind I've seen test marketed in 2017. In early 2017, a product called Bristle Badger briefly appeared, then quickly disappeared. It looked nearly identical to Dust Daddy.
Similarity to Dusty-Brush
As impressive and unique as Dust Daddy appears, it looks to me like this is an As Seen on TV version of a Kickstarter product called Dusty-Brush, which was invented back in 2015 by Dominic Moraitis. That item appears to still be in the pre-order phase, which means the knockoff has actually arrived first.
It's not the first time I've seen an original product beaten to the market by a competitor. Perhaps the most high-profile instance was when Telebrands created a knockoff of the fast-fill balloon toy called Bunch O Balloons (also a Kickstarter project) and beat them to the market by several months. A lawsuit ensued, but it was a signal of things to come, as some As Seen on TV marketers now seem to regularly scour Kickstarter for items to copy and rush to market, beating the original to the punch – at least in the eyes of the consumer.
Alternatives
It is quite easy to find universal vacuum crevice attachments that perform similarly, although I have not seen a design quite like this, other than Dusty-Brush and Dust Daddy.
Your Dust Daddy Reviews
What are your thoughts about Dust Daddy? Drop a comment below and a star rating above to let us know what you think about it.
Updated March 2018