Easy Eggwich is a microwave egg cooker that makes perfectly round eggs in one minute. Does it work? Read my Easy Eggwich review.
Sponsored Links
About Easy Eggwich
Easy Eggwich is an egg cooker that locks in moisture and makes cooked eggs in one minute using the microwave. The product has been around for a number of years and is widely available in stores. It does not appear to have an official website as of 2017.
Claims & Features
Quickly makes perfectly round eggs
Easily cleanable nonstick surface
Stay cool handle
Includes recipe book
BPA/PBA free
Safe for dishwasher
Cost
Easy Eggwich is available to order online and at a number of retail stores including Walmart, Walgreens, Bed Bath & Beyond, and Kmart. The prices varies depending on where it is purchased, but the average price seems to be approximately $8.00 to $10.00. I found it for sale at a Fry's here in Las Vegas for $5.
Each box contains two units.
Easy Eggwich Review
Easy Eggwhich (sometimes stylized as "Easy EggWich") is a small plastic bowl with a lid that is designed to help you make the perfect breakfast sandwich. The idea behind Easy Eggwich is quite simple. You crack an egg into the bowl, stir, and microwave for one minute. The end result is a perfectly round egg you can use on a traditional breakfast sandwich.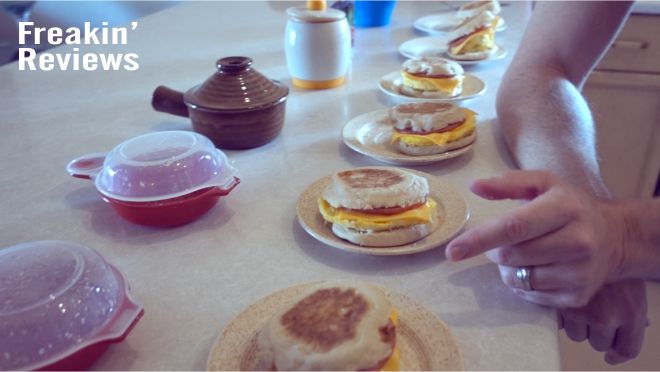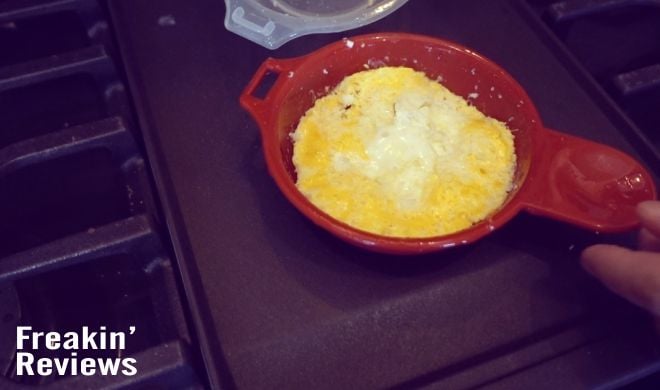 This is one of the older As Seen on TV products you still find on store shelves. It sports a simple design and clear purpose, and it does work about as advertised. I found that putting an egg in this device and cooking it for a minute in the microwave served a nice round egg that fit perfectly on an English muffin.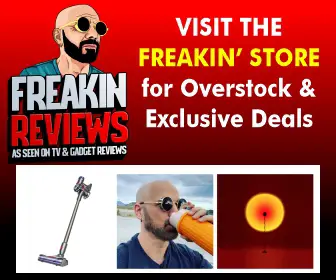 Some comments on older reviews of Easy Eggwich stated that you don't need to stir the egg, but I found that not to be the case. Stirring the egg provided a more evenly distributed yolk. Keep in mind that the power of the microwave could affect how long you need to cook the egg, but in general a minute seems right.
Easy Eggwich held up well in the dishwasher, but I realized that it had small scratches in the bottom from when I stirred the egg with a metal fork. You may want to exercise a bit of caution if you plan to stir your egg in this device.
At $5-$10 for two units, I think this does a pretty good job at delivering what it sets out to do. Is such a device actually needed? That is up for debate, and I put that to the test, which is discussed below.
You may want to peruse the hundreds of comments about Easy Eggwich, which are mostly positive.
Alternatives
It is perhaps worth noting that some people have said that such a device is unnecessary, and that the same results can be achieved with a coffee mug or small bowl. I tested out Easy Eggwich against two other microwave egg cookers: Stone Wave Microwave Cooker and Egg-Tastic. I also tried a coffee mug and a plastic bowl. All of them turned out fine, with the exception the coffee mug, which was too tall and narrow.
Video Review
Watch my full review of Eggwich vs Stone Wave Microwave Cooker, Egg-Tastic, a coffee cup, and a small bowl.
Television Commercial
Your Easy Eggwich Reviews
What do you think of Easy Eggwich? Tell us what you think by leaving a comment below and a star rating above.