Easy Glutes Review: Does it Work?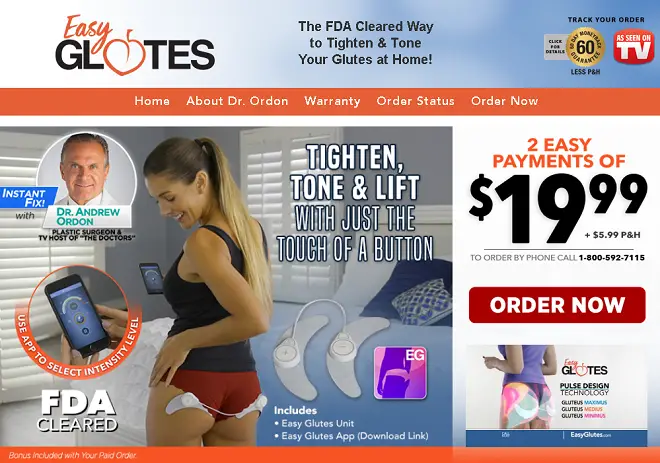 Easy Glutes is an electronic device which tightens and lifts the gluteal muscles using pulse design technology. Does it really work? Here is my Easy Glutes review.
Sponsored Links
About Easy Glutes
Easy Glutes is an apparatus which attaches to the hindquarters to deliver controlled muscle contractions in order to tone, firm, and strengthen the muscles of the backside. The official product website is easyglutes.com, which was registered in November 2017. The screenshot below shows how the product website looked in January 2018.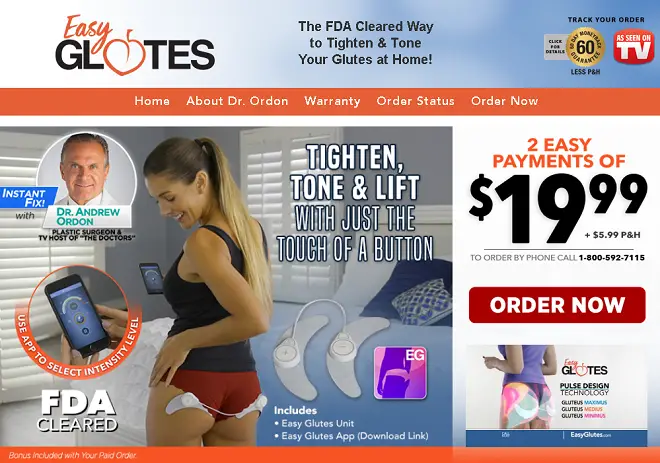 Claims & Features
Simply attach to glutes and activate
Cleared by FDA for toning, firming, and strengthening
Compatible with any smartphone
Choose intensity level with app
No need for exercises such as squats or lunges
Immediately sense it working
Can be used while getting ready to go out, doing household chores, or taking a walk
Receive the lift you've always desired
Ideal for any level of fitness
Cost
Easy Glutes costs $39.98 + $5.99 P&H for a total of $45.97. There is the option to pay the total or split it into two monthly payments of $19.99 plus $5.99 P&H. Each order comes with a downloadable link to the Easy Glutes app.
Easy Glutes Review
If the idea of strapping a device to your buns and firing electrical pulses into them with the hopes of gaining muscle appeals to you, the makers of Easy Glutes may have just the item for you.
To use Easy Glutes, you simply attach the device to your glutes, then launch its free companion app which controls the apparatus via Bluetooth. A setting on the app allows you to control the intensity level, which I am assuming will be at the max level by most users. An electric impulse will be sent to the gluteal muscles approximately every second, which in theory will give the same effect as doing squats and lunges.
Easy Glutes is a device that uses electric muscle stimulation, also known as EMS or E-stim. A similar technology, known as transcutaneous electrical nerve stimulation (or TENS), is often discussed interchangeably with EMS, although they are slightly different. EMS stimulates the muscles, while TENS stimulates the nerves.
Sponsored Links
The big question isn't whether Easy Glutes works or not, but if the technology behind Easy Glutes works. Although Easy Glutes is a new product, EMS is not, so there is considerable information available on this technology and much has been written and debated about the effectiveness of EMS.
The FDA has even weighed in on the topic of electronic muscle stimulators, noting, "While an EMS device may be able to temporarily strengthen, tone or firm a muscle, no EMS devices have been cleared at this time for weight loss, girth reduction, or for obtaining 'rock hard' abs." Livestrong adds, "Many studies have found little or no benefit from electrical stimulation when compared to a placebo… E-stem also will not lead to significant strength gains, despite some advertisement claims." This Men's Journal article indicates that some trainers have combined EMS with basic workouts to achieve superior results, but concludes that it is still just a "quick fix."
The inclusion of Dr. Andrew Ordon's endorsement probably shouldn't sway you to pick up this item. He has lent his name to other advertised products such as Derm Exclusive, which isn't exactly winning rave reviews. Additionally, the "FDA Cleared" status is equally as unimpressive. Gaining this status requires a non-rigorous standard be met to show a device is "substantially equivalent" to other cleared devices on the market. It gives no substance to the argument that a device actually works.
With all of this in mind, I think that the best chance for Easy Glutes to work would be alongside an existing workout regimen, which could defeat the purpose to some users. If you're already doing squats and lunges, but aren't happy with the results, this could be something to add to your routine to give you slightly better results.
Alternatives
A cursory search of TENS and EMS devices will yield a large number of products in this category. This $26 unit is currently listed as an Amazon's Choice with a 4.4-star rating among over 6,000 consumers. Note that it is marketed for rehabilitation and not muscle development.
Your Easy Glutes Reviews
Have you used Easy Glutes or something like it? Leave a comment below and a star rating above to let us know your thoughts.