Egg Sitter is a gel cushion advertised to reduce muscle aches and back pain. Does it work as advertised? Here is my Egg Sitter review.
Sponsored Links:
About Egg Sitter
Egg Sitter is a soft polymer seat cushion that provides support and comfort in any chair. The official product website is eggsitter.com, which was registered in May 2017. The screenshot below shows how the product website looked in December 2017.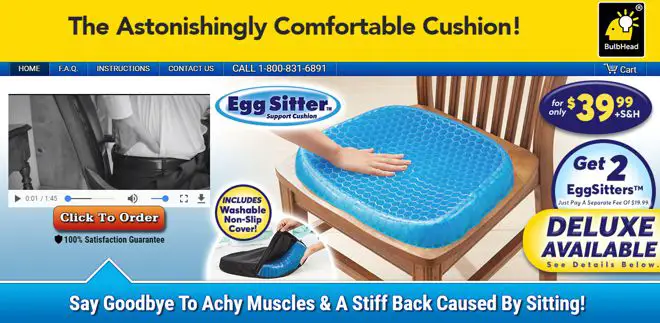 Claims & Features
Soft and comfortable
Absorbs pressure points
Honeycomb design keeps cool
Lets air circulate
Made of strong ultra-flex polymer
Cost
There are currently two offers for Egg Sitter. The Main Offer includes is one Egg Sitter and cover for $39.99 + $9.99. The Double offer is two Egg Sitters and two no-slip covers for $59.98 + $9.99 shipping for a total of $69.97. The Deluxe Offer includes a Deluxe Egg Sitter and cover for $49.98 + $9.99 shipping, or the Double Deluxe offer delivers two Deluxe Egg Sitters and two charcoal-infused nonslip covers for $74.97 + $9.99, totaling $84.96. As of this writing, Egg Sitter isn't available in stores.
Egg Sitter Review
Egg Sitter is a gel pad that can transform even the most uncomfortable chair into a supportive and soft seat. There is not much to using Egg Sitter, other than placing it in its non-slip cover and using it on the chair of your choice.
Sponsored Links:
The name Egg Sitter is in reference to their "egg" test in which an egg is placed on the cushion and then a consumer will sit on the egg. Because the cushion is so soft, the egg will supposedly not crack, even with a person sitting directly on it. This is not the first time an egg test has been used. The Royal Purple Seat Cushion used to be advertised with the exact same test, so it's likely that is what inspired the name of this product.
The secret to Egg Sitter is its honeycomb pattern which helps to distribute and absorb weight. Unlike some other "gel" cushions I've seen in the past, this one should actually feel like a gel cushion, but not to the point where you sink right to the bottom. Thus, I feel most consumers should find Egg Sitter to strike a nice balance between support and softness.
You'll definitely want to make sure the cover stays on whenever in, as these gel cushions have a slight stickiness that can pick up dust and debris quite easily. Another area to consider is the temperature of the material. Although it is advertised as a cushion that keeps cool, someone like me who doesn't like being cold may actually take issue with this feature. Indeed, these gel material cushions do not seem to retain heat like other cushions. That may be great in the summer, but not as desirable in the winter.
The cost of $70 may seem high for two seat cushions, but when you compare to those discussed below, it's actually about half the price of comparable cushions. Of course, it would be nice if you could just order one, but mandatory double offers are a common (and unfortunate) part of the As Seen on TV industry.
Based on its limited advertising and 2017 website registration, I believe Egg Sitter is probably being test marketed. You may want to watch my short video below to see some of the techniques used by As Seen on TV marketer, and why that often leads to slower than average shipping.
Alternatives
There is no shortage of gel cushion seat pads. The $70 WonderGel Support Cushion is probably the closest you'll find to Egg Sitter, and it sports high ratings among hundreds of consumers. I believe that may have been the predecessor (possibly re-branded) of the Purple line of cushions.
As far as other As Seen on TV cushions go, the Miracle Bamboo Cushion has advertised for years, and you can see my video review of that below.
Your Egg Sitter Reviews
Have you used Egg Sitter or something similar? Leave a comment below and a star rating above to let us know your thoughts.