Egglettes are nonstick silicone pods for cooking hard boiled eggs without the shells. Do they work as advertised? Here is our Egglettes review.
Sponsored Links
About Egglettes
Egglettes are small egg-shaped containers that cook shell-less hard boiled eggs. The official website is getegglettes.com, with a registration date of June 2017. The screen capture below was taken of the product website in September 2017.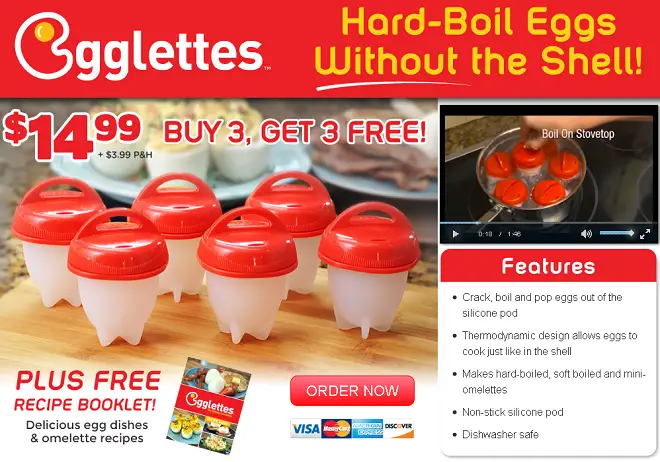 Claims & Features
Silicone pod cracks and boils eggs
No shell peeling required
Prepares hard boiled eggs, soft-boiled eggs, and small omelets
Nonstick (finished eggs easily pop out)
Simple to clean (safe for the dishwasher)
Cost
A set of six Egglettes costs $14.99 + $3.99 shipping for a total of $18.98. Each set comes with a recipe booklet and a microwave egg cooker. The Deluxe model comes with a holder and egg timer. Egglettes can be found in stores for $10 for a pack of four.
Egglettes Review
The moment I first saw the commercial for Egglettes, I knew I had seen something very similar to this before. That product was called Eggies, which advertised around six years ago. Eggies looked and functioned almost identically to Egglettes. Sure, the lid is now red and the shape of the base and lids are slightly different, but overall they feel like the same product to me – with a couple of notable improvements.
To use Egglettes, you simply crack open your egg and place it in the device. Next, you secure the lid, then place it in a pot of boiling water. Once the egg is done, you simply open the lid and your hard boiled egg will plop right out onto your plate. At least that's what the advertising tells us.
It's a pretty straightforward process, but it will probably take a few tries before you are able to figure out how long to cook eggs to your liking. As you can see in my video below, it was a process to get everything just right in order to create hard-boiled, medium boiled, soft boiled, and deviled eggs. Also keep in mind that the eggs come out rounded on one end and flat on the other, which looks strange but doesn't affect the taste.
Sponsored Links
The good news is that cooking eggs like this will produce hard boiled eggs, so for that I think most people will find that it works as advertised.  Other "pros" include being able to check and see when the eggs are fully cooked, as well as being able to add ingredients before placing them in the water. Those are probably compelling enough features to make some people want to try this.
Where a product like this or Eggies has the most potential to fail is in the nonstick surface. Although the instructions say to use three short bursts of cooking spray or olive oil, I found that heavily spraying it with cooking spray was the best way to prevent eggs from sticking. When I used oil, the eggs still stuck most of the time. When I did have residue, I found it very difficult to clean. Using a bottle brush or the abrasive side of a sponge is the best way to clean the pods once they have accumulated residue.
Another potential problem is cracking the egg into the Egglettes without spilling. On at least one occasion, I knocked one of the pods over. Finally, if you do find that eggs stick to the inside of Egglettes, adding time to clean this could make the overall time investment longer than just peeling eggs the old-fashioned way.
Egglettes does improve upon Eggies in one key area, and that is its silicone material. Eggies was made of a harder plastic that wasn't nonstick and could be problematic when trying to pop the eggs out of the device. Unless you heavily spray them with cooking spray, you may still find yourself scraping egg off the side of the pods.
I ordered the Deluxe Egglettes, which included an egg timer and a holder. The egg timer was inaccurate and didn't even chime when time was up, while I did find the holder to be of some value.
Alternatives
You may want to peruse some of the comments for Eggies on Amazon where it holds an unimpressive 2.9-star rating, with about 70% of all ratings being one star, keeping in mind that Egglettes does address some of those problems. If you would rather take a look at the highest rated product in this category, give this Nordic Ware Microwave Egg Boiler a close look. It costs $10 and holds a 4.2-star rating among over 2300 reviews.
Television Commercial
Compare Egglettes to Eggies and see how similar they are, even in the way they are marketed.
Related Video
I have a special place in my heart for As Seen on TV egg cookers, and the video below is one of my YouTube videos comparing a couple of classic items in this category.
Your Egglettes Reviews
What are your thoughts about Egglettes? Drop a comment below and a star rating above to let us know what you think about it.
Updated March 2018.