Euro Pedi is a product which delivers a salon-quality pedicure at home. Read our Euro Pedi review.
Sponsored Links
About Euro Pedi
Euro Pedi is a battery-powered device which is used in the shower to exfoliate feet. The official product website is europedi.com, which was registered in August 2016. Below is a screen capture showing the official website as it appeared in August 2016.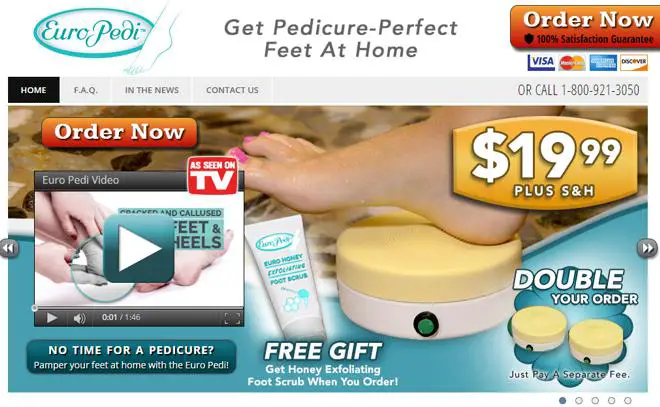 Claims & Features
Sticks to shower floor
Battery powered
Turns on or off with a tap of the foot
Exfoliates gently and effectively
Cost
Euro Pedi costs $19.99 + $9.99 shipping. A Honey Butter Exfoliating Scrub is included as a free bonus. You can double the offer for another $9.99.
As of August 2016, Euro Pedi isn't available in stores.
Sponsored Links
Euro Pedi Review
Euro Pedi is a small battery-operated disk which is placed in the shower and secured in place with suction cups. It is activated by pressing a button with your foot, which will spin the attached disk. You'll then place your foot against the rough, spinning disk in order to exfoliate your skin. Thus the benefit is that using this device is superior to the awkward position in which you must stand in order to scrub your feet manually. Keep in mind that you'll still need to stand on one foot in order to use this device, and that could also feel awkward.
The top of the unit has a diamond-textured dome, which does the bulk of the exfoliation. On the side of the spinning edge is a finer texture with which you can buff your feet.
There is a learning curve while using such a device. For example, if you press too hard, it will stop spinning. Conversely, if you don't press hard enough you will only see minimal results. Results are probably going to be best with daily use, rather than expecting it to provide dramatic results from a single session.
If you have sensitive feet, the fact that it won't allow you to press too hard could be a benefit. If, however, you prefer to scrub with intense pressure, you may find that Euro Pedi can't compete with old fashioned elbow grease.
Overall, we think Euro Pedi will garner positive reviews from the majority of those who use it. If you keep your expectations realistic, you may find that it does a decent job of exfoliating your skin. For best results, use it with your daily shower, and you'll find that your feet will eventually be smooth and soft.
Alternatives
Euro Pedi appears to be a knockoff of (or licensed version? of) a product called ButterFeet, as the look and feel of both products is nearly identical. Butterfeet costs about $46-$49 and currently holds a 3.2 star rating on Amazon. Both products even offer a honey scrub as a bonus.
In addition to this particular design, there are a seemingly infinite number of shower foot exfoliators, varying wildly in price and design.
Your Euro Pedi Reviews
What do you think of Euro Pedi? Give us your opinion in the comments below and leave a star rating above.