Ever Brite Color Path is a solar powered landscape lighting system. Does it work as advertised? Here is our Ever Brite Color Path review.
Sponsored Links
About Ever Brite Color Path
Ever Brite Color Path is a set of multicolored LED solar lights for outdoor spaces. The official website is buycolorpath.com, with a registration date of May 2017. The screen capture below was taken of the product website in July 2017.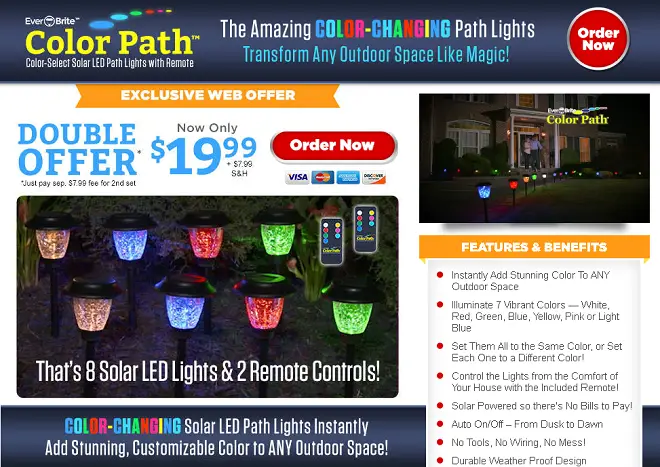 Claims & Features
Quickly add color and light to yards
7 color choices (white, red, green, blue, yellow, pink, or light blue)
Choose to make all the lights the same color or all different colors
Use the remote control to operate the lights from indoors (range of 25 feet)
Solar powered (remain bright for up to 8 hours)
Built-in light sensor automatically turns lights on/off (on from dusk to dawn)
Easy to install (no tools or wires required)
Constructed to withstand weather
Cost
Ever Brite Color Path costs $19.99 + $1 web service fee + $7.99 shipping for a total of $28.98. There is an optional double offer for a separate fee of $7.99 which would raise the total to $36.97. Each offer includes 4 solar LED lights and a remote control. At the time of this writing, Ever Brite Color Path is not available in stores.
Sponsored Links
Ever Brite Color Path Review
The original Ever Brite is a solar light that charges all day and stays on all night. It was one of the first video reviews I posted on YouTube, and my unit is currently still working 9 months later. Now the brand is back with Ever Brite Color Path, a set of outdoor solar-powered accent lights. At first glance, Ever Brite Color Path resembles an ordinary set of solar lights that adorn half the yards in my neighborhood. Upon further inspection, however, Ever Brite Color Path also allows you to easily change the colors with the touch of a remote.
To use Ever Brite Color Path, you simply place the stake-end of the lights in the ground. The solar panels will charge all day and the lights will switch on automatically at night, and switch off when the sun rises. Once the lights are on, you can use the remote control to set a variety of color options.
The remote itself reminds me of Luma Candles, which I picked up a few years ago. Those were also remote controlled lights in the form of candles, and they worked great for a few months until the remote control stopped working, rending the color function of the candles useless. I would just point out that should the remote stop working, you'll lose a lot of the functionality of Ever Brite Color Path.
Cost-wise, the average solar path light runs about $2-$5 each, so $37 for 8 lights is somewhat on the high end, but not out of line with others in its category.
Another important point to make is how many you get in the current offer, which is a bit confusing. Ever Brite Color Path is sold in two sets of four, and with one remote per group. Thus, the regular offer is for 4 lights and 1 remotes. A "Double Offer" will get you 8 lights and 2 remotes. Shipping is not refundable, so if you decide to return it, you'll still be out $8-$16 in shipping.
Alternatives
If the colored lights aren't a vital feature for you, there are numerous solar path lights to be found. This $36 set is a best seller and comes with a lifetime replacement guarantee.
Your Ever Brite Color Path Reviews
What are your thoughts about Ever Brite Color Path? Drop a comment below and a star rating above to let us know what you think about it.