EZ Jet is a hose attachment that allows you to use your hose like a pressure washer. Read our EZ Jet review here.
Sponsored Links
About EZ Jet
EZ Jet can be installed on the end of your garden hose to turn it into a powerful pressure washer.
The official product website is ezjetwasher.com, which was registered in July 2013. The screen shot below shows the official website in April 2016.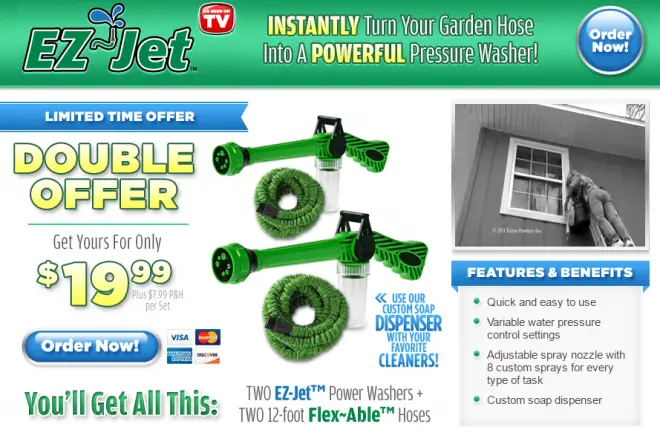 Claims and Features
Quick and easy to use
Water pressure control settings
Adjustable spray nozzle
8 different custom nozzles
Built-in soap dispenser
Cost
EZ Jet currently costs $19.99 + $7.99 P&H; can opt out of double offer for an additional $7.99 P&H.
You can find it on Amazon for about $13 plus shipping.
Sponsored Links
EZ Jet Review
Although you may have seen EZ Jet advertising in 2016, the product is not new. It has appeared in various incarnations over the past 6+ years, called the EZ Jet Water Canon or the EZ Jet Power Washer.
The device is essentially a fancy hose spray nozzle. It features an adjustable flow control and spray nozzle which allows you to control the amount of water flowing from the unit. The advertising shows it being implemented for various uses such as cleaning second-floor windows, fences, and driveways. It also features 8 different spray types which allows it to be used for a variety of cleaning jobs.
In addition the the various spray patterns, EZ Jet also offers a custom soap dispenser that you can use to wash with your favorite cleaners.
Because EZ Jet has been around for a number of years, it is easy to ascertain a consumer consensus of the product's effectiveness. In general, our tests and that of consumer feedback is that it works, although it isn't quite the same as a power washer.
It is a solid hose nozzle, with an ample number of spray patterns. It does a fine job for such jobs as washing cars and light cleaning jobs around the yard. If your expectations are realistic, you will almost certainly be satisfied with EZ Jet. If you're expecting results similar to that of a true power washer, you may be disappointed.
As one reviewer summarized, "This is a water nozzle with a soap dispenser… that's it." If you require a true power washer, this is not the product for you. If, however, a high end hose nozzle with a soap dispenser will fit the bill, EZ Jet is a strong competitor in this field. It currently sports a 3.7 star rating on Amazon, with general customer satisfaction.
You may want to read our recent review of another As Seen on TV "multi-action cleaning tool" called Broom Jet, which offers some of the same features as EZ Jet.
Your EZ Jet Reviews
If you have used EZ Jet please give us your thoughts by leaving a comment below and a star rating above.