EZ Pockets Review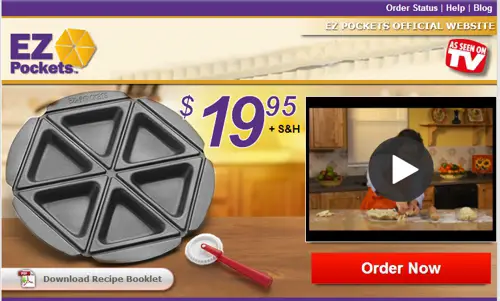 EZ Pockets are pans which allow you to make individual pocket pies at home. Here is our EZ Pockets review plus key product information.
Sponsored Links
EZ Pockets is a baking pan with 6 pockets which allows you to make individual pies. Using it is simple: Lay your dough across the pockets, drop in your filling, and then cover it with a top layer of dough.
The idea behind EZ Pockets is a good one, and it is certainly a simple way to create pockets of various fillings. We found the pan to be well-made and the nonstick surface performs well. The pies, however, are a little smaller and not as deep as we would have liked. This makes for rather small pie pieces that don't go very far when you have several people waiting to eat them. A larger design would have been better. Overall it does work, but the slices are a bit on the small side for our tastes.
What do you think of EZ Pockets?
Official Website
getezpockets.com
Registered on October 25, 2012
Contact
Sponsored Links
Claims/Features
Tagline: EZ Pockets are as easy as pie!
"The pan's ridge guides keep the perfect dough cutter in place so you can easily seal, cut, and decorate the edges perfectly every time."
"With EZ Pockets, you can get perfect personal size pie servings every time."
Nonstick pan
Cost
A 6-pocket EZ Pocket costs $19. 95 plus $7.95 shipping for a total of $27.90
You can also include the EZ Pocket square pan for another $6.95 shipping for a grand total of $34.85
Screenshot
This is a screen capture of the official website, taken in December 2013: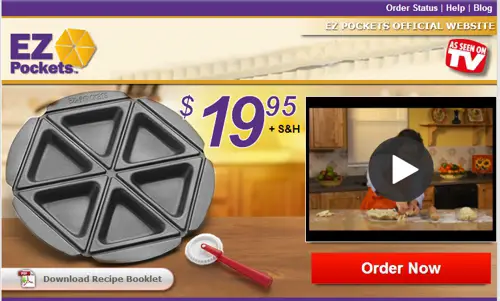 Television Commercial
This is a television commercial for EZ Pockets:
EZ Pockets Reviews
Have you tried EZ Pockets? Please give us your review in the comments below and give it a star rating above.
Tags: