EZ Sealer Review: Does This Tape Sealer Work?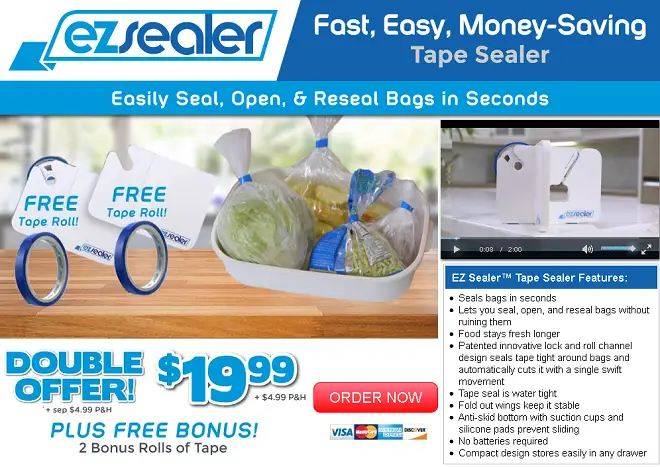 EZ Sealer is a handy tape sealer that quickly opens, seals, and reseals bags. Does it work as advertised? Here is our EZ Sealer review.
Sponsored Links
About EZ Sealer
EZ Sealer is a convenient tape sealer that creates water tight seals with its lock and roll channel design. The official website is ezsealer.com, with a registration date of December 2016. The screen capture below was taken of the product website in July 2017.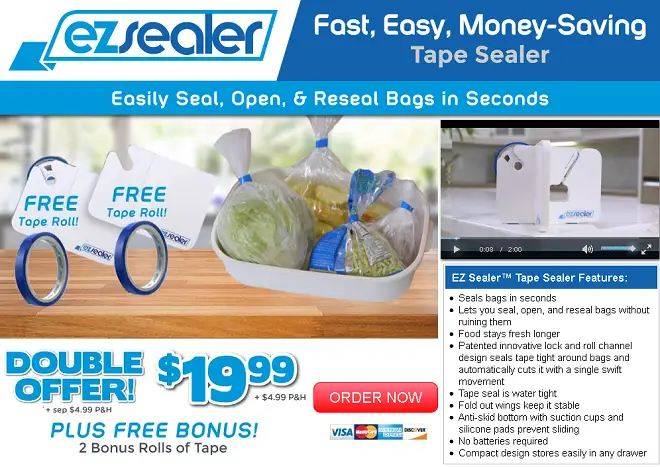 Claims & Features
Seals bags in moments
Seal, open, and reseal bags (will not destroy bags)
Keeps food fresh for longer
Lock and roll channel design rapidly seals and cuts tape in one movement
Water tight tape seal
Kept stable by fold out wings
Silicone pads and suction cups on bottom stops sliding
Does not require batteries
Compact for easy storage
Cost
There is a mandatory double offer when ordering EZ Sealer. The cost is $19.99 + $4.99 double offer + $4.99 P&H for a total of $29.97. It comes with two bonus rolls of tape (each roll is good for approximately 300 seals).
Sponsored Links
EZ Sealer Review
Anyone who has seen a fair share of kitchen-related As Seen on TV commercials is probably familiar with food sealers, such as FoodSaver, Seal-A-Meal, or Euro Sealer. While it would be easy to lump EZ Sealer into the same category as those products, it is actually quite different from those in the way it functions. Seal-A-Meal and the others use heat to bond plastic bags together, forming an airtight seal. EZ Sealer is a bit more low tech, using a roll of tape that is automatically wrapped around a bag opening.
To use EZ Sealer, you simply twist the end of the bag you want to seal and press it through the opening. A roll of tape is wrapped around the bag and cut, so that when you reach the other side, you have a perfectly taped bag. There is a small amount of force required, as you have to press hard enough to push the tape down and allow the mechanism to cut it. It is not electronic, so all of the motion will be done manually.
Surprisingly, there may be a bit of a learning curve involved in order to get the perfect motion for an ideal taping job. If you move too quickly or too slowly, you may not get ideal results. After a few tries, you'll probably get the hang of how fast to move your hands as you press the bag through the unit.
This is one of those items that could be a game changer to those who need such a device. I'm not sure that all of the examples are relevant to everyone, such as a loaf of bread, which usually already has a twist tie that works fine for its purposes. If, however, you are creating a large number of items to be bagged separately, this could be a great way to seal them up quickly. I might opt for something like zippered bags, but that may not always be feasible, which is when something like EZ Sealer could be a compelling option.
If, after seeing the commercial, you think this is something you'd enjoy, EZ Sealer could be a good fit for you. Keep in mind, however, that this is not available in stores and potential customers currently must buy two of these as part of the television "double offer" which means you can expect to pay about $10 in non-refundable P&H fees. If that doesn't appeal to you, fortunately there are other options I'll discuss below.
Alternatives
If EZ Sealer seems to be a new idea, you may be surprised to find that it is actually a common design, and there are numerous bag tapers already on the market. This $13 model by Tach-It, for example, is probably the most popular on Amazon and sports relatively positive reviews. It may pay to shop around.
Your EZ Sealer Reviews
What are your thoughts about EZ Sealer? Drop a comment below and a star rating above to let us know what you think about it.