Fantasy Flicks is a holiday projection system that creates an impressive moving display on any window. Does it work? Read our Fantasy Flicks review.
Sponsored Links
About Fantasy Flicks
Fantasy Flicks is a projector that shines a holiday movie onto an interior window to be seen from the outside. The official website is getfantasyflicks.com, which was registered in October 2016. The screen shot below was taken of the product website in December 2016.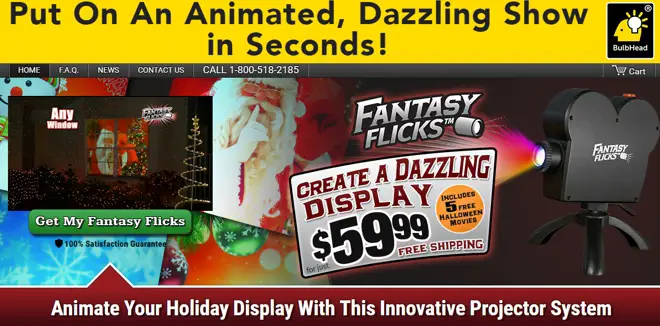 Claims & Features
Unique animated holiday display
Projects to any window with adjustable screen
1600 lumens and high-end optic lens
Easy to set up
15 holiday movies (5 are for Halloween)
Cost
Fantasy Flicks is $59.98 with free shipping, which can be broken into two payments of $29.99. As of this writing, it's not sold in stores.
Fantasy Flicks Review
I first noticed Fantasy Flicks back in December 2016. By that point, most people had already purchased their holiday decorations, so it seemed a bit odd to me to see a new product suddenly appear.
What I realized at that time is that Bulbhead (aka Telebrands) was probably testing out a product idea for the following year.
With Star Shower Laser Lights and Star Shower Motion being enormous hits in 2015 and 2016, it appears likely that the As Seen on TV marketers would seek out the next big thing in this category, and perhaps wanted to test the idea out at the tail end of the 2016 holiday season.
Sponsored Links
Thus, with Fantasy Flicks, we have what seems to be the next logical step after Star Shower Motion, which was a moving light show projected onto the home. Fantasy Flicks takes it one step further by projecting actual movies, but rather than on the home, these movies are projected onto a screen over an interior window.
It is a dramatic and impressive display that will no doubt be coveted by those who like to kick up their holiday decorations every year.
There are also some obvious limitations to consider. In my house, I only have a single window facing the street, and that window is in a bedroom with blinds. I'm not sure it would be a good fit in that scenario, as I would have to leave the blinds up in that room when I want to project the movie. Also, there is no ideal place to put the projector at the optimal distance. It seems that Fantasy Flicks is geared more toward a living room than a bedroom.
Currently, Fantasy Flicks offers 15 holiday movies: 10 Christmas and 5 Halloween. My guess is that if this becomes a hit, they'll introduce versions for other holidays, such as Thanksgiving or Fourth of July.
I'm not sure that the brilliance of the images will be quite as dramatic as those shown in the advertising, but I still think that this will be a huge hit in 2017, and perhaps beyond. I wouldn't be surprised if you start seeing other items just like this from competitors of Telebrands.
After Fantasy Flicks was advertised in December and January, it disappeared for a while, with the website being forwarded to Bulbhead.com. I noticed that it re-appeared by May 2017, and another nearly identical product also showed up called Window Wonderland.
These items are both produced and marketed by Bulbhead, so I think it's safe to assume that they are being test marketed to see which version is the best fit for consumers. I noticed both of them advertising on Google at the same time.
The differences between Fantasy Flicks and Window Wonderland are minimal. Window Wonderland offers a sound version, a "Deluxe" model with 18 movies (6 Christmas, 6 Halloween), and a lifetime guarantee. Only Fantasy Flicks allows a split-payment. Only Window Wonderland offers the ability to toggle between horizontal and vertical displays.
Eventually, either Fantasy Flicks or Window Wonderland will make the cut, and the other will disappear. I'm confident that you'll see one of these heavily marketed in late 2017.
Alternatives
As you may have expected, there are a couple of items out there that already do the same thing as Fantasy Flicks. Windowfx offers two holiday projector videos, one for $40 and the other for $80. Holiday Projectors is another brand that projects Halloween and Christmas movies onto an interior window.
Your Fantasy Flicks Reviews
If you've used Fantasy Flicks, give us your thoughts by leaving a comment below and a star rating above.