Fast Track Climber is a vertical climbing exercise machine which provides a full-body workout. Read our Fast Track Climber review.
Sponsored Links
About Fast Track Climber
Fast Track Climber is an exercise device which mimics the motion of rock climbing. The official product website is fasttrackclimber.com, which was registered in June 2016. The screen capture below shows the official website as it appeared in July 2016.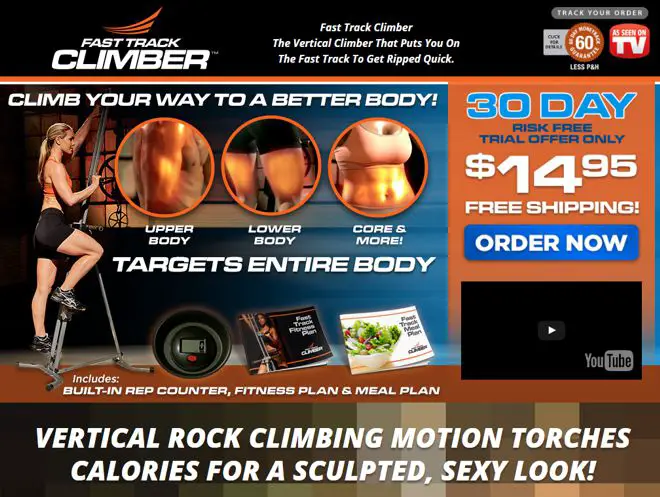 Claims & Features
Targets entire body: Upper, lower, core
Vertical rock climbing motion
Rep counter, fitness plan, and meal plan included
Adjustable height
Isometric comfort grips
Good for all body types
Gym quality design
Folds for easy storage
Cost
You can purchase Fast Track Climber from the official website for one payment of $159.96 with free shipping, or take advantage of the 30 day trial for $14.95 with 4 monthly installments of $39.99. You'd save $14.95 by opting for the one-time payment choice.
Delivery takes about 7 to 10 business days.
Sponsored Links
Fast Track Climber Review
Fast Track Climber is an exercise machine which mimics the motion of rock climbing, as it requires arms and legs to work at the same time. The result is an intense workout that hits all of the key areas.
This machine could be described as a knockoff of the popular Maxi Climber, which has been around for several years (see below). It contains all of the basic features you'll find with Maxi Climber, including a built-in rep counter to keep you focused on your own personal goals. To use Fast Track Climber, you step onto the pedals and grab onto the handles (the height setting is adjustable). You'll then use a climbing motion with both arms and legs.
We found that the legs seemed to bear the brunt of the exercise, but it is possible to get your arms more involved if you focus your attention to that area. That said, although you do get a total body workout, the workout you'll get from Fast Track Climber is more of a cardio routine than a resistance training workout. Don't expect to bulk up using this machine, but you can expect to burn a significant number of calories. You will work your muscles with the high rep workout, but the resistance isn't enough to achieve significant muscle gains.
Fast Track Climber is light weight, folds for easy storage, and offers a relatively quiet operation. It doesn't take up a large area, so it is ideal for small rooms or apartments. There is no resistance setting, meaning that the machine uses only your body weight, which is standard for this type of machine at this price range.
In the end, any benefit you get out of an exercise machine is entirely dependent on how much effort you put into it. Fast Track Climber certainly offers sufficient tools to give you an intense cardio workout, and is priced right where we'd expect.
Overall, we think Fast Track Climber is a worthy alternative to Maxi Climber.
Alternatives
As noted above, Fast Track Climber is quite similar to another highly-marketed machine called Maxi Climber. Both devices sport similar designs, and provide similar workouts. Maxi Climber is slightly more expensive, but is often a best seller in its class on Amazon. There are other brands with similar products, such as this vertical climber by Conquer.
Television Commercial
Your Fast Track Climber Reviews
If you've used Fast Track Climber, tell us what you thought by leaving a comment below and a star rating above.