Fend is a plug-in flying insect trap which works without chemical insecticides. Read our Fend Flying Insect Trap review.
Sponsored Links
About Fend
Fend Flying Insect Trap is a device which attracts and eliminates flying insects. The official product website is getfend.com, which was registered in June 2016. Below is a screen capture showing the official website as it appeared in August 2016.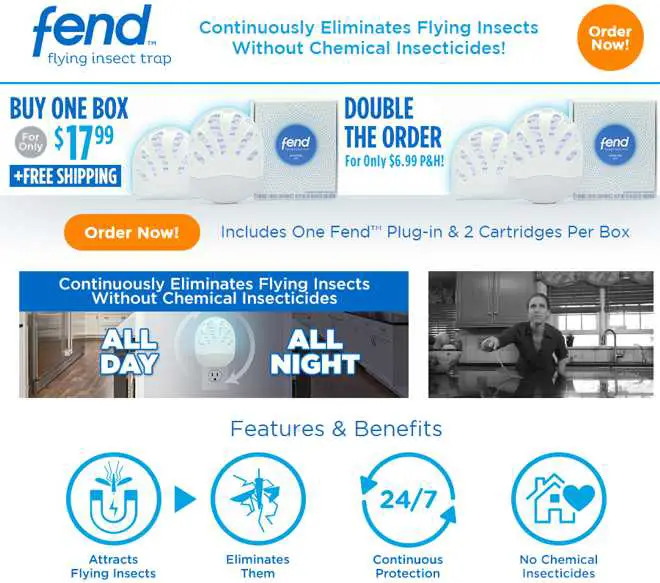 Claims & Features
24/7 continuous protection
Attracts flying insects with blue and UV lights
No chemical insecticides
Bugs are trapped with a powerful adhesive
Silent and odorless
Good for flies, mosquitoes, moths, fruit flies, and more
Cost
You can get Fend for $17.99 with free shipping. This includes one plug-in and two cartridges. There is an option to double the order for another $6.99.
Sponsored Links
Fend Flying Insect Trap Review
At first glance, Fend looks like an attractive plug-in night light or air freshener. It's only upon closer examination that its function as an insect trap becomes apparent.
Fend plugs into a wall outlet and emits light which attracts flying insects. Those bugs then stick to the included adhesive similar to that of fly paper. Once the trap is full, you merely discard the cartridge and insert another into the plug-in.
While there are a number of other plug-in repellent devices on the market (see below), few offer the same design which combines a soft glow with an adhesive insect paper. Most plug ins are ultrasonic – a controversial and unproven technology – or zappers that can be loud and dispense a dead bug "mist."
You could certainly invest in some inexpensive fly paper placed strategically near a nightlight, but that option may not be as aesthetically pleasing as the design offered by Fend. Your guests will most likely believe Fend is an air freshener unless they look closely.
Fend is sold with one plug-in and two disposable cartridges and it doesn't appear to be available in stores, meaning you can't continue to purchases refill cartridges locally. Once local availability occurs, we think consumers will more likely to give Fend a try.
Keep in mind that Fend is only designed for flying bugs, meaning roaches and ants will not be affected by this device.
Fend may not be the most inexpensive option for removing unwanted flying pests in the home, but it is perhaps one of the most elegant. We hope it becomes available in stores, as it certainly has a place among competing products using different technologies.
Alternatives
There are countless plug-in insect products. These most commonly include zappers and ultrasonic repellents. Perhaps the closest to Fend is the Fly Web Fly Light Fly Trap, which costs about $30 and holds about a 4 star rating.
Your Fend Reviews
What do you think of Fend? Give us your opinion in the comments below and leave a star rating above.