Figure Flawless Jeans are flexible leggings with an outer layer that looks like jeans. Do they really work? Here is my Figure Flawless Jeans review.
Sponsored Links
About Figure Flawless Jeans
Figure Flawless Jeans are a combination of leggings and waist shapewear that have the appearance of designer jeans. The official product website is figureflawless.com, which was registered in August 2017. The screenshot below shows how the product website looked in October 2017.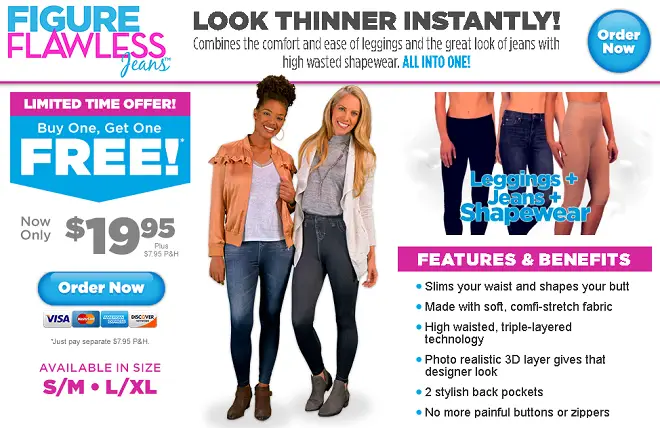 Claims & Features
Makes the waist look thinner while framing the butt
Manufactured from soft and flexible fabric
Three layers: comfortable inner layer, compression layer around waist, and 3D photo realistic outer layer
Includes two back pockets
No buttons or zippers
Cost
There is a mandatory double offer when ordering Figure Flawless Jeans. The cost is $19.95 + $7.95 shipping + $7.95 double offer for a total of $35.85. Double offer includes a pair of classic denim and black. S/M fits sizes 4-10 while L/XL fits sizes 12-18. At the time of this writing, Figure Flawless Jeans are not available in stores.
Figure Flawless Jeans Review
When I first saw the commercial for Figure Flawless Jeans, I knew I had seen something like this before… a few times. The word "flawless" has quickly become something of an buzzword for women's products in 2017. I've seen it used in products ranging from makeup to razors and now leggings.
Sponsored Links
Figure Flawless Jeans are essentially leggings that are colored to resemble regular jeans. They also slim your waist while lifting your bottom in order to give you a more shapely look. It's not the first product on the market to do this. You may recall Jeaneez from a few years ago, or Genie Slim Jeggings. Both of those products were leggings made to look like jeans that also shaped and tucked with maximum comfort. Sound familiar? There was also a product called Hollywood Pants which functioned similarly and was marketed in 2016 through early 2017, until is disappeared. With Figure Flawless Jeans we have the 2017 offering in this category, and I don't see much of an improvement over older designs other than the addition of two back pockets and the high waist shaping material.
I know those reading a review of a product like this are looking for some hint as to whether or not this is for them, but unfortunately this is going to be one of those products that you pretty much have to try yourself. That's because different consumers have different expectations. I don't think these are a true replacement for jeans, and most people will probably be able to tell they are leggings. As this type of item has become more common, however, that may not be a problem for you.
If you have tried other products like this and were disappointed, this could be worth a try, especially if you were dissatisfied with the lack of stomach shaping. This does offer Spanx-like shaping of the tummy which could be a compelling reason to try it out. Keep in mind that this is a very new item and shipping could take a while. It has been my experience that new As Seen on TV products can take as long as three months to ship, but that doesn't mean that will be the case here.
I wouldn't expect to fool anyone into believing you are wearing jeans, but jean leggings have become popular enough that wearing these probably won't garner any unwanted attention. If you're completely on the fence, you may want to seek out a less expensive alternative that won't take as long to ship.
Alternatives
You can still find Jeaneez online and even in some stores, and it may be worth it to check out some of the other reader reviews on those. If you're looking for the highest rated jean leggings out there, you'll probably want to take a look at this offering by WallFlower, which sports a 4.1 star rating and costs $27.
Your Figure Flawless Jeans Reviews
Have you used Figure Flawless Jeans or something like it? Leave a comment below and a star rating above to let us know your thoughts.