Fit Right is an expandable drawer organizer which can conform to the length and width of most drawers. Read our Fit Right review.
Sponsored Links
About Fit Right
Fit Right is a two-way expandable drawer organizer which can be customized to most drawers.
The official product website is buyfitright.com, which was registered in September 2015. Below is a screen capture showing the official website as it appeared in August 2016.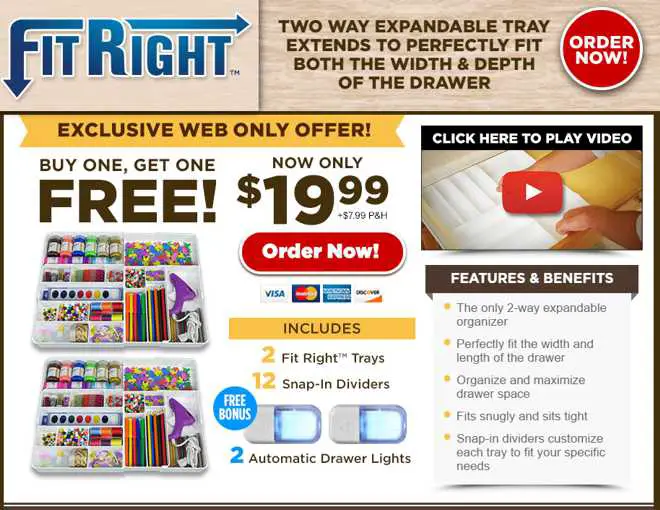 Claims & Features
Two-way expandable organizer
Perfectly fits width and length of drawer
Maximize drawer space
Fits snugly
Includes snap-in dividers for customization
Cost
You can get Fit Right for $19.99 + $7.99 P&H. This includes two trays and two trays, 12 dividers, and 2 drawer lights.
A Deluxe version is available for another $5. This includes an anti-microbial coating.
As of this writing, Fit Right isn't available in stores.
Fit Right Review
The idea of a drawer organizer may not seem very foreign to you, nor may the thought of an expandable drawer organizer. Fit Right, however is a rare two-way expandable organizer, which allows you to maximize drawer space in multiple directions.
Sponsored Links
Fit Right can be placed in most drawers, then expanded to match the width of the drawer, and expanded again to match the depth. This two-way design sets it apart from most competitors in this category.
When looking at Fit Right, I'm reminded of a product called Spicy Shelf which was advertised in 2014-2015. That item was an adjustable and stackable cabinet organizer which could be customized to fit almost any design. Although you don't see Spicy Shelf in stores these days, it was a hot seller for several months, and I still use mine today.
I believe it is fair to assume that, based on its limited advertising, Fit Right is currently in a limited or test marketing phase. I hope that it does make it into full production, because I think this design is superior to standard drawer organizers. Plus, as evidenced with the popularity of Spicy Shelf in 2014, I believe consumers like organizers that can be customized.
The only problem with new items such as this is that sometimes shipping delays happen when their limited inventory quickly sells out, leading to back order status. While I can't say for sure that will happen here, it seems more likely with newer products on the market.
Overall, I think that Fit Right will be a hit with consumers if it ramps up into full production. Better still would be in-store availability, which would reduce the cost of shipping to zero and make this even more affordable.
I'll update this space when I get more information on this product.
Alternatives
There are a number of wooden expandable drawer organizers available online for around $13-$22. Most expandable organizers, however, only expand in width, while Fit Right also expands in depth.
For a slightly different take on the idea, you may want to check out the Amazon #1 Best Seller in this category, the Made Smart Interlocking Drawer Organizer.
Your Fit Right Reviews
What do you think of Fit Right? Give us your opinion in the comments below and leave a star rating above.