Silk'n Flash&Go is an at-home hair removal system which is advertised as an inexpensive alternative to professional treatments.
Sponsored Links:

Intro
Silk'n Flash&Go is described as a "revolutionary light-based system for permanent results" which generates light to remove body hair, from the comfort of your home. Originally it was sold as a single model, but it is now offered in two editions, the Luxx and Starter editions.
Reviews are mixed on the effectiveness of this product. Some reviewers have said that the product does in fact work as advertised, while others have claimed it was ineffective. This discrepancy is perhaps due to the fact that the product is better suited for certain hair types. There have also been questions raised about the lifetime of the flash tube, is far smaller than those used by professionals. The Flash&Go lamp needs to be replaced after 5000 pulses, in comparison to professional units which can last well over 100,000 pulses.
This complaint was remedied by the introduction of the Luxx model which can hold 120,000 pulses. Older Flash N Go units can be upgraded to the Luxx "lifetime" edition for about $99.
Official Website
myflashandgo.com
Creation Date: August 7, 2013
Contact/Info
Address: Home Skinovations, 100 Leek Crescent Unit 15, Richmond Hill, ON L4B 3E6
Phone: 877-367-4556
Email: [email protected]
M-F 9am to 8pm EST
Their Claims/Features
At-home hair removal
"Cleared by the FDA"
Permanent results
Save hundreds over professional treatment
Competitor of no!no! Pro (see our write up of that product here)
Works best on dark hair
Not recommended for dark complexion skin
Not for use after tanning or sun exposure
Noticeable results after 4 treatments
Luxx upgrade kit available
Cost
Starter package: $199

Luxx package: $298

Free shipping
Replacement lamps cost about $40 for starter package
Screen Shot
Below is a screen shot of the official website, taken in February 2015.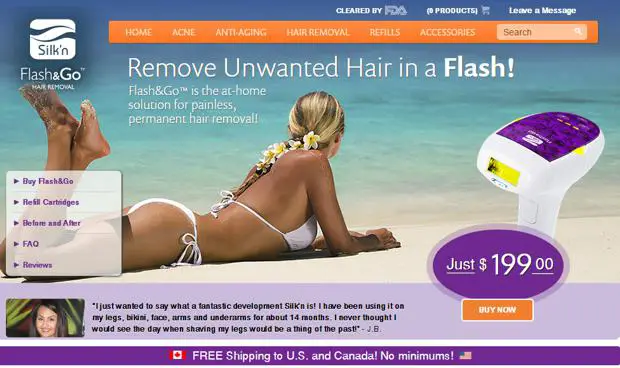 Below is a television commercial for Flash&Go:
Silk'n Flash and Go Reviews
Have you tried Silk'n Flash&Go? Please give us your review in the comments below and a star rating above.
First published October 2013
Modified February 23, 2015
Sponsored Links: