Flawless Folding Mirror is a high definition vanity mirror that is lit by LED lights. Does it work as advertised? Here is our Flawless Folding Mirror review.
Sponsored Links
About Flawless Folding Mirror
Flawless Folding Mirror is a double-sided, rotating vanity mirror with circular LED lights around the edges. The official website is flawlessfolding.com, with a registration date of July 2017. The domain flawlessmirror.com has also been used, but as of this writing that domain does not work. The screen capture below was taken of the product website in July 2017.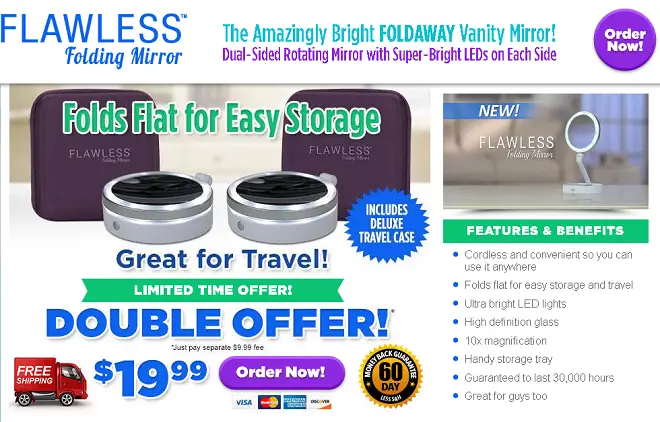 Claims & Features
Cordless and portable
Folds completely flat for storage
LED lights around the border of mirror
Manufactured from high definition glass
10x magnification
Storage tray in base
Lights guaranteed to run for 30,000 hours
Can be used by women and men
Cost
Flawless Folding Mirror costs $19.99 + $1 web service fee for a total of $20.99. There is an optional double offer for an additional fee of $9.99 which would bring the total to $30.98. Shipping is free on both offers. The mirror comes with a deluxe travel case. At the time of this writing, Flawless Folding Mirror is not available in stores.
Sponsored Links
Flawless Folding Mirror Review
The world of As Seen on TV marketing can be an interesting, and confusing, thing. When I first saw the commercial for Flawless Folding Mirror, I knew I had seen it before – or at least something just like it. Indeed, it was only two months ago that I wrote about a product called My Foldaway Mirror that looks remarkably similar to Flawless Folding Mirror. When two very similar products are marketed simultaneously like this, it's usually one of two scenarios: Rival As Seen on TV marketers have released virtually identical products, or a single marketer is testing the same product under different names. I've seen both scenarios, and in this case I believe it is the same company marketing an item under two names. I come to this conclusion based on the wording of policies, along with identical pop-ups, and other similarities on each product website.
Using Flawless Folding Mirror is as easy as extending the mirror from the base and choosing among the standard mirror or 12x magnification mirror, both of which are illuminated by LED lights. The mirror can be swiveled in order to choose which side you want to use.
Flawless Folding Mirror collapses down into its base for easy storage and transport. Three shallow storage compartments are included where you can store accessories such as hair clips or bands.
The mirrors are not particularly large, but in the case of the magnification mirror, that's not necessarily an important point. I'm not sure that Flawless Folding Mirror will replace larger, more stationary, vanity mirrors. I do think, however, that this is perhaps one of the best travel vanity mirrors you'll find. The $20 price tag seems a bit high for the materials used, but that may not be a deal-breaker.
Because it looks like there are two versions marketed by the same company, it is my assumption that Flawless Folding Mirror is being test marketed, which you may want to keep in mind should you decide to order. Test marketed items are notoriously slow to ship, and may even change names, price, or design before they hit full production – if they ever do. I can't tell you how many test marketed items I've ordered, only to have my order canceled weeks later.
It will be interesting to see which of these two mirrors wins the test marketing battle and becomes the final version. I'll update this space if anything changes.
Alternatives
Flawless Folding Mirror is similar to a well-received item on Amazon called the Floxite Lighted Folding Vanity and Travel Mirror. That item costs about $45 and has a 4 star rating among hundreds of reviews. If you're looking for a less expensive option, you may want to look at the $20 Kedsum folding makeup mirror.
Your Flawless Folding Mirror Reviews
What are your thoughts about Flawless Folding Mirror? Drop a comment below and a star rating above to let us know what you think about it.